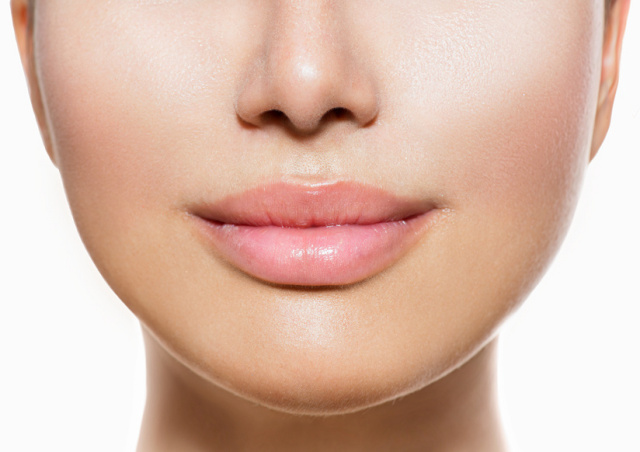 Lip enhancement is a cosmetic procedure that improves the fullness, symmetry, and definition of your lips. Plumper, more youthful lips can be achieved through lip fillers, lip implant, or fat transfer. But not everyone is ready to go under the knife. Luckily, injectable dermal fillers are a fast and easy way to get a temporary boost for your lips! Dermal fillers provide a simple, effective solution for increasing lip fullness, and can restore or enhance the contours of the lips. It's no wonder that they're so popular. In fact, they are the second most frequently performed non-surgical cosmetic procedure in the United States.(1) Lip enhancement with dermal fillers addresses the volume loss from aging that can lead to thin, wrinkled lips. It also helps those with naturally thin lips achieve a fuller, more curvaceous pout. Juvederm and Restylane are two FDA-approved dermal fillers that provide optimal results for lip enhancement. Dr. Joseph Michaels has helped women and men in the tri-state area and beyond enhance their features and achieve an appearance that makes them feel their very best. Over the course of his practice, he has built long-term relationships with his patience that are based on honesty and trust. Patients enjoy sensitive, empathic care at each stage of their procedure, whether it's a quick injection session, or surgery. If you've been thinking about lip enhancement, contact us today through our contact form or by phone at our Rockville office, (301) 468-5991, or Fairfax office, (703) 957-8610.
Before & After Photos
Before and After Photos
About Hyaluronic Acid Lip Fillers
Juvederm and Restylane are today's leading dermal fillers. They're both commonly used for lip enhancement, and they both contain hyaluronic acid (HA) as their active ingredient. Hyaluronic acid is a naturally occurring substance in the body that keeps the deep layers of the dermis, as well as our joints and eyes, able to retain moisture. The hyaluronic acid present in our skin is responsible for its firmness and elasticity. This incredible molecule is a popular ingredient in skincare products because of its ability to attract and bind to water molecules, adding volume and hydration to tissue. Unfortunately, as we age, our bodies produce less and less of this precious component, and wrinkles set in. Luckily, there's a way to get HA back where it's needed with a few quick injections. And because HA is naturally-occurring in the body, these dermal fillers have little to no risk of complications or allergic reactions for patients.(1) While there are many aesthetic concerns that can be addressed with HA-based injectables, they're particularly well suited to lip enhancement. These fillers help create lips that are sensuous and soft, and add shape, structure, and volume to lip contours. HA fillers are also used to correct asymmetry and reduce the appearance of lines and wrinkles in the perioral region – the area of skin around the lips.(2)
Finding the Right Filler for Your Lips
If you're ready to test-drive a more luscious set of lips, you certainly have options! Both Juvederm and Restylane have a range of formulas that are specifically designed for different areas of the face, including the lips. It's important to know what each of these formulations do, so that you know your options for achieving your lip enhancement goals.
Restylane and Juvederm both offer effective results to patients for lip enhancement, but there are some differences in their consistency and how they perform once injected. Restylane requires less product to be injected to achieve the desired results, so many patients find Restylane a more affordable option. However, studies comparing Juvederm and Restylane have shown that it has a similar effect, duration, and most importantly, patient satisfaction rates: both the group of patients that were injected with Restylane and the group of injected with Juvederm reported a 96% satisfaction rate a month after treatment!(3)
Restylane and Juvederm offer various FDA-approved formulations for lip enhancement.
Restylane Silk
Restylane Silk's granular formation helps to provide the body necessary to sculpt the lips for a smooth, precise, natural lip profile. Silk also treats perioral lines, or the fine vertical lines that develop around the mouth as a result of aging.
Restylane Kysse
Kysse targets vertical lip lines as well as lip enhancement. Its soft, flexible formula is ideal for lips, as it allows for natural movement. Restylane Kysse can last up to a year and also improves hydration, which creates a plumper appearance with richer dimensions. Restylane Kysse results in less swelling with more natural movement of the lips than other fillers.
Juvederm Volbella XC
Volbella also has a low viscosity, but is a smooth gel. It's specially designed formula allows it to move along with your lips. It adds volume to the lips and treats wrinkles and fine lines in the perioral region of the mouth. Juvederm XC products contain lidocaine, so patients enjoy a more comfortable experience, since the area is further numbed after injections.
Juvederm Ultra XC
Ultra gel carries a thicker consistency than Volbella which helps to create a soft, pillowy pout. Ultra adds more volume and can be used to recontour lips for pronounced enhancement.
Like Volbella, it includes the anesthetic lidocaine to prevent discomfort. (2)
To learn more about the other injectables and services that Dr. Michaels offers, follow his blog.
Benefits
Lip augmentation carries numerous benefits, including an increase in self-confidence. And, there's no limit to the advantages of a boost in confidence. A more shapely voluptuous set of lips can make you feel younger, sexier, and have more fun shopping in the cosmetic department! Sometimes, it's the little things that can make your day: a random compliment on your looks; a more frequent smile; or focus and poise.
Additional benefits of lip augmentation with dermal fillers include:
Natural looking results
Minimal recovery time
Customizable treatment options
Long-lasting results
Safe, quick, non-surgical procedure
Candidates
You may be a good candidate for lip augmentation if you:
Have asymmetrical lips
Are generally in good health
Have wrinkles around the mouth
Experience thinner lips from aging
Have realistic expectations for results
Seek more facial balance with fuller lips
Seek an improvement in the appearance of your lips
Lip augmentation with dermal fillers may not be right for you if:
You have a bleeding disorder
You have an infection or open wound on or near of the lips
You are allergic to lidocaine
Additionally, if you experience cold sores, you may also need to discuss starting an antiviral treatment prior to your appointment to prevent a possible outbreak.
Personal Consultation
The team of Michaels Aesthetic and Reconstructive Plastic Surgery has built long-term relationships based on trust with patients. We'll meet with you to have a one-on-one, informative conversation about your aesthetic concerns, and the best approach for your treatment. Should you seek lip enhancement that helps to improve overall facial contours, contact us today at our Rockville office, (301) 468-5991, or Fairfax office, (703) 957-8610. Please visit our blog to learn more about our work and the various procedures that we have performed on our patients, with high-satisfaction results.
Preparation
To prepare for your lip injection procedure:
Avoid blood-thinning medications such as Ibuprofen, Advin, and Motrin for 48 hours
Avoid alcohol 24 hours before your procedure to prevent excess swelling, bruising, and bleeding
If you experience cold sores, take prescribed medication prior to your procedure as instructed
Avoid blood-thinning vitamins and supplements 48 hours prior to your procedure (e.g. fish oil, ginkgo biloba, St. John's Wort and Vitamin E)
Procedure
Juvederm and Restylane are fast, outpatient procedures. Dr. Michaels will numb the injection site on the lips with a topical anesthetic. He will then use a fine-tip needle to deposit the HA filler into your lips. Areas the filler may be deposited include the oral commissures (mouth corners), center curve in the upper lip (Cupid's bow), and edges of lips (vermillion border). Do not apply pressure to the treatment area.
Recovery
You may experience bruising and swelling in your lips from the injections. Swelling should subside within 48 hours. You may also return to regular activities as soon as your procedure is complete. To lessen bruising and swelling, avoid strenuous exercise for 24 to 48 hours post-procedure. If you feel any lumps in your lips, you may be advised to massage the area to smooth them out. Dr. Michaels recommends avoiding lipstick and other topical products 24 hours after your procedure. To reduce swelling, we recommend having an ice pack on hand to apply to the injection site.
Results
Both Restylane and Juvederm enhance lip fullness as a result of the hydrating effects of hyaluronic dermal fillers. Although you may notice a difference immediately after your appointment, the final results will appear gradually, as any swelling subsides. Full results for Restylane and Juvederm for lip injections settle in after one week, once the hyaluronic acid filler has had time to take effect in the deep layers of the lip's soft tissues. Results can last for up to a year, with semi-annual "touch ups" required for upkeep.
Cost of Dermal Fillers in Rockville
The cost of lip enhancement with dermal fillers will depend on the specific filler you've chosen, the number of injections being performed, and the amount of filler needed to achieve your desired results. We will gladly provide a cost estimate during your consultation.
References
Akinbiyi T, Othman S, Familusi O, Calvert C, Card EB, Percec I. Better Results in Facial Rejuvenation with Fillers. Plastic and Reconstructive Surgery Global Open. 2020;8(10). doi:10.1097/GOX.0000000000002763
Luthra, A. Shaping Lips with Fillers. (2015). Journal of Cutaneous and Aesthetic Surgery. 8(3): 139-42. doi: 10.4103/0974-2077.167269
Hilton S, Sattler G, Berg AK, Samuelson U, Wong C. Randomized, Evaluator-Blinded Study Comparing Safety and Effect of Two Hyaluronic Acid Gels for Lips Enhancement. Dermatologic Surgery. 2018;44(2):261-269. doi:10.1097/DSS.0000000000001282