Laser technology now offers some of the most advanced techniques for facial resurfacing, minimizing unsightly veins, and hair removal.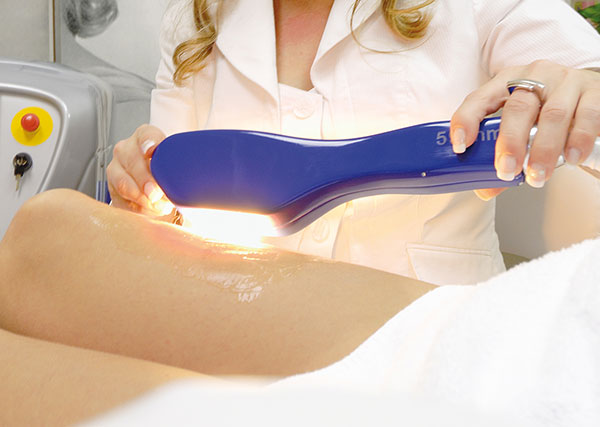 As the result of age and sun exposure, the texture and color of your facial skin may deteriorate and wrinkles may form. You may have uneven skin color, pigmented skin spots or blemishes, enlarged pore size or small veins that appear on your face.
Laser resurfacing with fractional technology can improve the quality of your skin with minimal down time. Fractional lasers treat small areas of skin leaving surrounding areas intact that help heal the treated zones. For this reason, your recovery is faster. The flipside is that since the laser only treats certain areas leaving other areas intact, two to three treatments may be necessary to achieve the desired result.
Varicose Vein Removal
Laser treatments are also available to treat spider veins that may appear on your face, neck, legs, chest, or any other place on your body. Laser treatments target heat to these small veins causing the blood inside of them to clot. It also injures the lining of the veins causing them to scar and close. Although one treatment may result in vein closure of small areas, larger areas may require multiple treatments to insure vein closure.
Laser Hair Removal
Unsightly hair can be embarrassing for both women and men.
Laser treatments are an excellent technique to remove hair from any part of your body. In many cases, these treatments result in permanent hair loss. Not all of your hair is actively growing at the same time. Each hair follicle may be in one of three distinct phases: growth, regression or resting. The laser will only inhibit your hairs that are in the active growth phase at the time of treatment. For this reason, multiple treatments will be required for you to obtain optimal results.
Quick Facts
Length
15-45 min
Anesthesia
Topical
In/outpatient
Office-based procedure
Side effects
Pink or red discoloration dryness, mild/moderate discomfort, sun sensitivity. May require several treatments to achieve optimal results. Maintenance procedures may be required to maintain results.
Risks
Skin discoloration, Infection, scarring, Reactivation of herpes virus (if positive patient history).
Recovery
Back to work with makeup: 1-2 days. More strenuous activity: 2-3 days.
Final appearance
1-2 months
If you would like to learn more about laser treatments, click here or call (301) 468-5991 in Rockville, Maryland or (703) 957-8610 in Fairfax, Virginia to schedule a consultation.