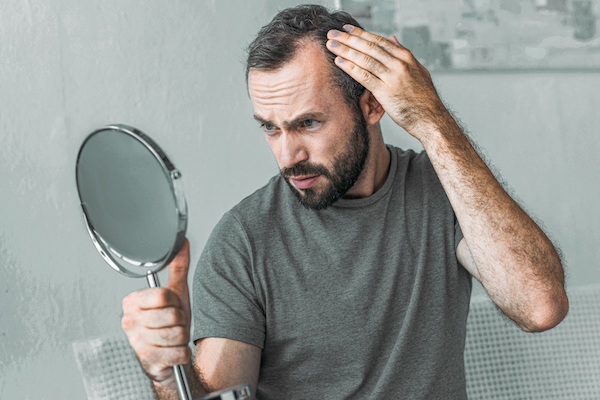 Hair Restoration with PRP is a way to stimulate hair growth by treating the scalp with platelet rich plasma (PRP). PRP has many important medical applications that go far beyond restoring hairlines. PRP is commonly used in periodontal therapy, maxillofacial surgery, orthopedics, and sports medicine. In the field of dermatology, PRP is prized for its ability to treat acne scars, and improve the outcome of fat grafting and wound healing. It's also a proven tool to aid in hair regrowth. (1)
Men and women who are experiencing early signs of hair loss, or alopecia, can regain a fuller, thicker, healthier head of hair with PRP Hair Restoration, and Dr. Joseph Michaels. When it comes to hair loss, time is not on your side: contact Dr. Michaels' office in Fairfax, Virginia at 703-957-8610, or in Rockville, Maryland at 301-468-5991. Don't wait, or you may find that you really have nothing left to lose. 
About Alopecia
If you've noticed hair that becomes more sparse as the years pass, you're certainly not alone. Androgenetic alopecia (AGA) is the most common form of alopecia, and affects up to 80% of men and 50% of women during their lifetime. Unfortunately, it's chronic, it's age-related, and it doesn't just make your hair fall out. AGA also reduces the diameter of your hair, resulting in finer, weaker hairs, slows hair growth, and alters your hairs' pigmentation.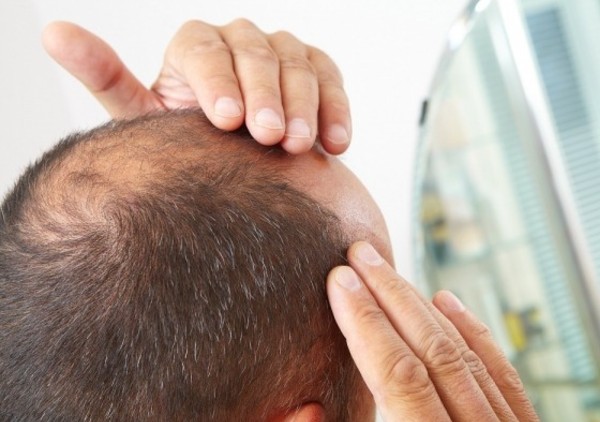 And like the march of time, there's not much you can do to prevent it; AGA is determined by your genetics and influenced by your hormones. (1) But although you can't "cure" the condition, you certainly can treat the symptoms! 
Hair growth remedies are dime a dozen, but PRP treatment is a clinically proven regenerative methodology that uses your body's own healing abilities. In hair restoration therapy, PRP can be injected directly to the area requiring treatment without the risk of allergic reaction or side effects.
What is PRP and How Does it Work?
Platelet Rich Plasma, or PRP, is a concentrated form of your own blood. It's taken during a standard blood draw and then processed to isolate its therapeutic platelets.
In a typical blood sample, there are 93% red blood cells (RBCs), 6% platelets, and 1% white blood cells. After your blood sample has been platelet-enriched in a centrifuge, the PRP will have a 94% concentration of platelets and a 5% concentration of RBCs. This PRP has a high level of growth factors and cytokines to facilitate tissue rejuvenation and healing.
PRP contains at least six major growth factors, and each one is involved in a specific bio-molecular activity during hair regrowth. The platelet-derived growth factors encourage a healthy supply of blood to the follicles and the growth of skin cells and connective tissue.
Healthy Follicles Make Healthy Hair
During hair loss, follicles shrink, and the growth, or anagen phase, is drastically shortened. Hair follicles become dormant, and the telogen phase, when hair naturally falls out, is extended. Patients with AGA often have lymphocytes and mast cells in the area surrounding miniaturized follicles. While lymphocytes and mast cells help our body fight infections, they can also work against the hair growth process.
The growth factors in PRP improve cell migration, attachment, growth, and regeneration. Growth factors in PRP promote hair regrowth by binding to stem cells deep in the hair follicle and associated tissues. These stem cells induce the growth cycle, facilitating hair regrowth. They also generate the growth of blood vessels that nourish the follicle. (2)
Benefits
In a recent review of 12 different carefully selected clinical studies, 84% showed positive effects, and half of those were reported as being significant improvements. Other reviews revealed studies showing improvements in hair density, coverage, diameter, and length. (1)
Other benefits include:
Conveniently performed in-office
Non-surgical and minimally invasive
Quick Treatment: a single session can take as little as an hour
No risk of allergy: PRPs are derived from your own body
High rate of satisfaction
Can be used in combination with other hair loss treatments like Minoxidil and Finasteride
Candidates for PRP in DC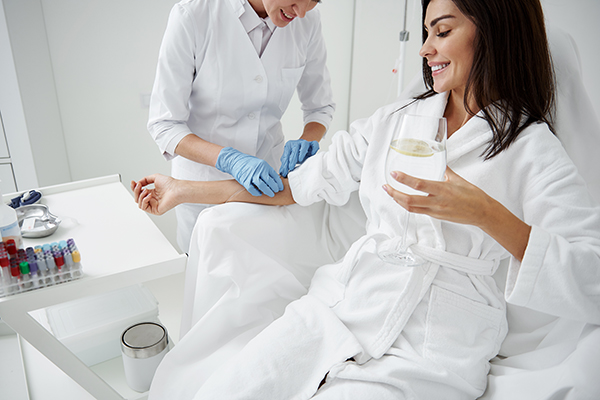 Chances are, if you're worried about your hair loss, you're a good candidate for hair restoration with PRP. PRP therapy is the most advanced and least invasive clinically proven hair restoration treatment on the market. And, if you're genetically predisposed to hair loss, the sooner you get started, the better. In the early stages of hair loss, hair follicles are still active and will benefit more from the restorative growth factors of PRP therapy. Those in later stages of hair loss will also experience improved hair growth but may require additional treatment sessions.
Ideal candidates for PRP hair restoration should be in good overall health with no underlying skin conditions.
Patients should have reasonable expectations, and Dr. Michaels will evaluate your candidacy for PRP Hair Restoration during your personal consultation. PRP therapy achieves significant and visible hair growth and increased hair counts. However, the results of this treatment are not instantaneous and generally take about six months before improvements are noticeable. 
Personal Consultation
During your personal consultation, you'll enjoy a discreet and compassionate environment where you can ask any questions you may have, and discuss the best treatment options for your hair loss. Dr. Michaels will review your medical history and examine the area that you wish to treat. Once he determines the cause of your hair loss and evaluates the condition of your scalp, he'll be able to determine whether you are a good candidate for hair restoration with PRP. He'll then devise an effective treatment plan that is tailored to you. You'll be counseled as to how to prepare for your treatment, and what to expect in the weeks following your PRP therapy session. To schedule your consultation and get started on restoring a head of lush, healthy hair, contact Dr. Michaels' office in Fairfax, Virginia at 703-957-8610, or in Rockville, Maryland at 301-468-5991.
Hair Restoration Procedure with PRP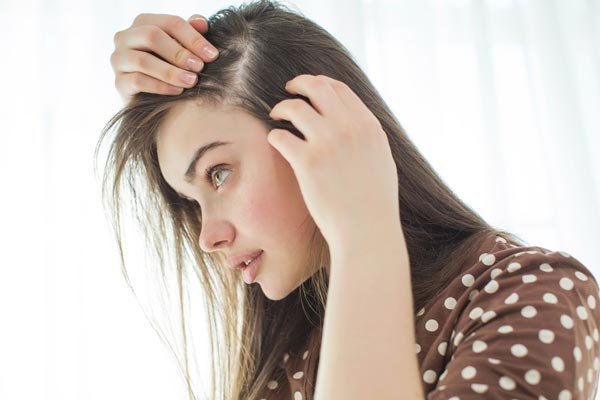 This treatment is performed in our offices and may take as little as half an hour per session. Because PRP therapy is non-surgical, it requires no significant preparation. After a small blood sample is drawn, it is placed in a centrifuge to isolate your body's own PRP. This purified PRP sample is placed in a syringe and then introduced directly into the scalp with rows of small, even injections. The treated area of your scalp is then washed and moisturized, and you'll be ready to get back to your day. Some patients may experience temporary redness and sensitivity.
During your PRP session, you'll be awake and resting comfortably. You'll find that the bulk of your appointment is spent waiting for the PRP to be prepared and that the injection process itself is fairly quick. And although most patients experience little to no pain during their treatment, there are topical and local anesthetics available for those concerned about discomfort.
Results
Because PRP stimulates the body's natural growth cycle, you'll need to be patient to see significant results. There's a lot going on underneath your scalp! PRP therapy for hair restoration improves the density, thickness, and growth of hair, and most studies show significant results from 3-6 months after treatment. Depending on how far along you are in your hair loss, you may require regular additional treatments before you can enjoy all the benefits of a fuller head of hair, but not before a surge of relief and confidence.
Complementary Procedures
Since a hair restoration procedure with PRP is fairly quick, and you're already in the office, why not treat yourself to some instant gratification with a Botox or Dysport injection? These neuromodulators prevent the harsh muscle movements that result in lines and wrinkles around the eyes, mouth, and on the forehead. People of all ages love the fast, painless results that these cosmetics provide. Besides turning back the clock, Botox and Dysport leave patients with a calm, collected expression that radiates confidence.
To learn more about the other services that Dr. Michaels offers, follow his blog.
Cost
The cost of your PRP hair restoration treatment will depend on the size and condition of the areas treated, and the number of sessions required to achieve optimal results. Because Dr. Michaels and his staff believe that patients shouldn't have to compromise to reach their aesthetic ideals, there are several financing options available. When you sign up for our mailing list, you'll be kept informed about exciting specials that can save you money on the other services we offer. 
FAQ
What is PRP?
PRP is platelet-rich-plasma that is obtained from a sample of your blood. This sample is processed in a centrifuge to isolate the naturally occurring and beneficial platelets. This substance is then reintroduced into your body via injection. PRP is rich in growth factors that stimulate your body's own regenerative processes.
References
Cervantes J, Perper M, Wong LL, et al. Effectiveness of Platelet-Rich Plasma for Androgenetic Alopecia: A Review of the Literature. Skin Appendage Disorders. 2018;4(1):1-11. doi:10.1159/000477671
Gentile P, Garcovich S. Systematic Review of Platelet-Rich Plasma Use in Androgenetic Alopecia Compared with Minoxidil®, Finasteride®, and Adult Stem Cell-Based Therapy. International Journal of Molecular Sciences. 2020;21(8):2702. doi:10.3390/ijms21082702