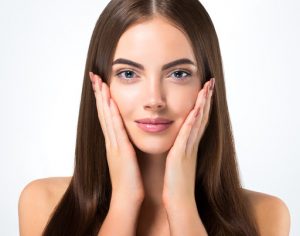 Are you tired of finding imperfections on your skin? As we age, we collect many aging signs such as loose skin, wrinkles, irregularities, scars, and acne. If your goal is to restore youthful texture and eliminate skin blemishes, you should definitely consider treatment with RF Microneedling. RF stands for radio frequency and, when combined with microneedling technology, provides transformational results for your skin.
At Michael's Plastic Surgery, RF microneedling procedures are completed with a handheld device called Fractora. This is a fractional radio-frequency device that helps to resurface your skin by combining the fundamental technique of microneedling with the cutting-edge technology of radio frequency. This technique will improve your skin by strengthening its structure and restoring your youthful glow!
What Is RF Microneedling?
If you struggle with loose, wrinkled skin on your face or neck, an RF microneedling treatment may be your ideal solution.
Dr. Michaels employs a state-of-the-art system called Fractora, a micro-needling device that emits radio frequency waves into your dermis. "RF" stands for radio frequency heat that helps to resurface your skin, improve its quality and provide lasting results. Minimally-invasive and FDA-approved, this treatment will help repair skin damage and aging.
Fractora impacts the deeper layers of your skin and by creating small microlesions, triggers your body's healing response. The healing response tells your skin to produce increased amounts of collagen to heal your skin. Collagen is a building block of your skin's structure and an increased amount will help your skin become firmer and lifted. This stimulation will create impressive correction in your skin's surface. A few days after your treatment, you will notice rejuvenated, smoother skin.
This treatment is also very effective at resurfacing and contouring specific areas such as the jawline.
If you have a busy lifestyle but are bothered by wrinkled skin along your neck and chin, an RF microneedling treatment is a great non-surgical skin rejuvenation solution. You can achieve impressive benefits after one treatment without having the extensive recovery time surgery would require.
Recently, microneedling at home has become very popular and take-home "dermarollers" have been heavily marketed as a cheaper alternative to professional treatment. However, a dermaroller will not provide the same transformative results a professional grade micro-needling procedure will produce. Skin needling should be performed by a professional to provide safe, healthy results.
How Will This Treatment Improve My Skin?
An RF microneedling treatment provides profound results! This treatment has many advantages, some of these benefits include:
Smoother, softer skin
Minimally-invasive procedure
Firmer skin
Customized treatment
Stimulates collagen production
Reduced wrinkles, lines and creases
Bright, healthy skin
Decreased scarring and acne
These are just a few of the ways the RF microneedling treatment will transform your skin! Patients commonly enjoy a boost in confidence and improved self-image.
Is This Treatment Right For Me?
If you are interested in non-surgical skin rejuvenation, this may be your perfect solution. Men and women who struggle with the following concerns should consider RF microneedling:
Dull skin
Loose skin
Irregularities
Acne
Scars
Wrinkles, deep lines and creases
Hyperpigmentation
An RF Microneedling treatment is an effective anti-aging treatment that improves many of our patient's skin.
Consult with Dr. Michaels – Skin Care Expert
At Michael's Aesthetic and Reconstructive Plastic Surgery, we encourage you to ask questions and voice any concerns.
In your private consultation, you will get the opportunity to discuss your skin concerns and personal goals. Dr. Michaels will explain how he performs the RF microneedling treatment and how it will correct skin imperfections. He will listen attentively and ask about your skincare routine, allergies, past skin treatments, and current medications. Then there will be an examination of your skin with a particular emphasis on the aspects that bother you. All of this information will help Dr. Michaels develop the best plan to treat your skin.
We want you to feel comfortable and confident about every step of your treatment.
Dr. Michaels and his staff will discuss the details of the microneedling procedure, its many benefits, potential risks, and expected outcome. RF microneedling technology is incredibly versatile and allows you to customize your treatment. This personalization includes the depth of needle perforation and the groupings of needles. The Fractora applicator comes with sets of 60, 24 or 24 coated pins. These factors allow for your results to be predictable and yield impressive results. Together, we will create a treatment plan that addresses your concerns and best achieve your skin goals!
Below is a list of questions you may want to ask about in your upcoming treatment:
Do you have before-and-after photos for this treatment?
Do I need to take time off from work?
How long is the recovery period?
When can I expect to see results?
How many treatments do you suggest I receive?
How long will the treatment take?
How long after the procedure can I wear makeup?
Will this treatment affect my facial hair?
These are just a few questions meant to guide you through the consultation and help surface new questions. The goal is to inform you and help you feel confident and excited about your upcoming treatment.
At the end of your meeting, you will schedule a date and time for your RF microneedling appointment. Our team will walk you through how to best prepare for your treatment and recovery period. Following Dr. Michael's instructions will give you your best experience.
How To Prepare For Your Treatment
In anticipation of your treatment, be sure to pick up any moisturizers or ointments specified for recovery. You may not be able to use your regular products for a while as they may clog or irritate the microlesions created in treatment.
On the morning of your appointment, you will need to avoid strenuous exercise or activities that make you sweat. Sweating can dehydrate your skin and allow the microneedling treatment to irritate the micro-injuries. You will also need to avoid putting any products on your skin prior to your appointment.
Be sure to wear clothes that can easily be removed without applying pressure to the treated area(s). Remember to stay hydrated the morning of your treatment. Staying hydrated will keep your skin moist and improve your recovery process.
The RF Microneedling Treatment Process
When you arrive for your procedure, your skin will be cleansed and a topical anesthetic will be applied to the treatment area. Once the numbing agent has taken effect and you are comfortable, Dr. Michaels will begin the treatment by gently applying the handheld Fractora device.
Your treatment will occur in-office and will take about forty-five minutes.
Once the microneedles are pressed into the skin, radio frequency waves are emitted to penetrate the deeper levels of the dermis. By sending heat waves into the tissues, the treatment will help to restructure your skin. This heat will also work to tighten your skin, helping you to have a smoother, firmer surface.
The radiofrequency waves are applied with precision to avoid any trauma to the surrounding tissue.
The pressing action is repeated until the entire predetermined area is treated. Once completed, your skin is cleansed and moisturized.
What To Expect During Recovery
Strenuous activities, exercise or anything that makes you sweat should be avoided until your skin is healed.
After the procedure, your skin may be sensitive, swollen or red. The skin of the treated area can look and feel like it has been sunburned. Symptoms will diminish after one to two days as your skin recovers and rebuilds its structure.You may be provided a moisturizer to use in your initial recovery period. Be sure to mention any skin care products you plan to use because many at-home products may cause irritation or hinder the healing process. During this time you will need to avoid direct sunlight and in the weeks following the initial healing use a high level of SPF to protect your skin.
What Results Can I Expect with RF Microneedling?
You will see immediate improvements in the appearance of your skin. The treatment has stimulated your collagen levels and, as a result, will be tighter and smoother. After four to six weeks you will begin to see your newly generated skin level that is more evenly-textured, soft and luminous than the previous skin layer.
You may need multiple treatments to obtain your skin goal but once achieved these results will be long-lasting.
To maintain your results you will need to stick to healthy skin-care practices, such as exfoliating, moisturizing and wearing sunscreen.
Combining Fractora with Forma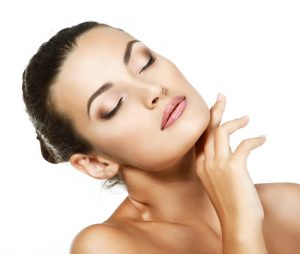 Patients often combine their RF microneedling treatment with Forma, another method of radio frequency treatment. Like Fractora, Forma is another method that safely applies RF technology to the skin. Forma provides deep-tissue improvements and is excellent at correcting aging symptoms. This treatment is minimally invasive and requires little downtime. This two-part treatment offers a comprehensive surface level and deep-dermis radiofrequency treatment. The dual-level heating effective triggers long-term and immediate improvements in skin quality.
A Forma and Fractora combo treatment can provide immediate and long term results.
The Forma device is a cutting-edge technology with a built-in temperature sensor that allows Dr. Michaels to tell when the optimal temperature has been achieved to produce collagen stimulation. This safeguard ensures you have a healthy, positive experience and achieve maximum results. Forma provides immediate results and you will be able to see improvements in the quality of your skin after your appointment. Forma will help to rejuvenate your face and help diminish the appearance of wrinkles and dull skin.
Patients also have the choice of Forma Plus. Forma Plus covers larger areas of the skin, such as the neck, and helps to provide a subtle, natural lift.
When Fractora and Forma are combined, they help to recreate your skin. These two treatments can be performed separately but Dr. Michaels is trained to perform them together to help you achieve transformational results. Many patients will look significantly younger in a just a few short weeks.
Fractora addresses the surface of your skin, helping to smooth it out with micro-ablations, while Forma reaches deeper into your skin to restructure and lift the treatment area. Together, these technologies will improve hyperpigmentation, scarring, skin texture and wrinkles while lifting the skin to provide you with a glowing, youthful result.
What Is The Cost Of An RF Microneedling Treatment?
Each patient's treatment plan is personalized and will have a different cost based on the number of treatments and customized aspect. The RF microneedling treatment will transform your skin and leave you with radiant, soft skin! If you are interested in how this treatment will benefit you and improve your everyday life, schedule your private consultation today at (301) 468-5991!