Breast augmentation with lift is a transformative cosmetic surgery that combines the benefits of breast implants and a breast lift. This combination procedure is designed to enhance the size, shape, and position of your breasts, giving you a more youthful and proportionate appearance. Whether you desire to restore lost volume after pregnancy and breastfeeding, correct breast sagging, or simply improve your sense of body confidence, you may be an appropriate candidate for a breast augmentation with breast lift surgery.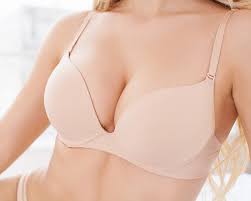 At Michaels Aesthetic & Reconstructive Plastic Surgery, Dr. Joseph Michaels and his dedicated team provide compassionate and personalized care throughout every step of the journey, ensuring that your experience is comfortable and rewarding. As a board-certified plastic surgeon and assistant professor at Johns Hopkins School of Medicine, Dr. Michaels strives to deliver exceptional results for every procedure he performs.
To take the first step towards achieving your dream body, please call our locations in Rockville, MD at (301) 468-5991 or Fairfax, VA at (703) 957-8610. Alternatively, you can reach us by filling out our contact form. Our friendly staff is ready to assist you in scheduling your consultation.
Before and After Photos
Breast Implant Options
At Michaels Aesthetic & Reconstructive Plastic Surgery, Dr. Michaels believes the best results can be achieved with breast implants since they are highly customizable to fit unique body types and aesthetic visions. Here, we'll outline the exact options you can choose from when you book a consultation:
Silicone Implants
The first silicone implants were designed by Dr. Thomas Cronin and Dr. Frank Gerow in the early 60s. Since then, their design has improved immensely; they are now considered the most popular choice of implant. If you're desiring a natural softness that resembles real breast tissue, silicone may be the right choice for you. Today's silicone implants are highly cohesive and have a low rate of complication and/or rupture. The latest advancements are "gummy bear", or highly cohesive implants which have been proven to be more resilient against gravity and less likely to cause tissue deformation over time. (1)
Saline Implants
These types of implants are made of silicone but filled with saline. If you decide on a saline implant, Dr. Michaels will insert the shell into the breast first, then slowly apply the saline. This process allows Dr. Michaels to precisely determine how much to volumize the breast, according to your desires. Saline implants have a strong, sealed valve that prevents leaks from occurring. While they're not quite as popular as silicone implants, they are safer in the sense that in case a leak occurs, the saline can be easily absorbed.
Projection
Another aspect of breast implants to consider is their outward projection from the chest. This is slightly different from the cup size you would like to achieve. You will be able to choose from low, medium, or high breast implant projections. If you have a larger frame, more projection may look more natural than if you were to have a smaller frame.
Implant Size
Dr. Michaels will outline the options you have for implant size, measured in cubic centimeters (cc). It's important to keep in mind that implant size doesn't directly correlate with a specific cup size, but it indicates the volume of the implant itself. Small implants begin at roughly 150 cc, while large ones can be 400 cc or more. Every 150 cc equates to roughly 5 fluid ounces of volume.
Shape
If you are looking for implants that appear more natural, a teardrop shape may be your best option. If you are aiming for a very lifted, dramatic effect, round implants can help accomplish this look.
Placement
Finally, breast implants are placed either overlying the chest muscles (subglandular placement) or under the chest muscles (submuscular placement) Dr. Michaels will help summarize which option is most aesthetically pleasing for your body. In general, research has shown that subglandular placements provide more optimal results if the patient undergoes a breast lift as well. (2)
Personal Consultation
At Michaels Aesthetic & Reconstructive Plastic Surgery, we understand that each patient is unique and has individual goals when it comes to their breast appearance. During your initial appointment to our state-of-the-art facilities in Rockville, MD, and Fairfax, VA, Dr. Michaels will take the time to thoroughly evaluate your medical history and discuss your specific cosmetic concerns. This comprehensive assessment allows him to understand your expectations, discuss the risks involved, and the pros and cons of each type of breast implant. Please give us a call at (301) 468-5991 (Rockville) or (703) 957-8610 (Fairfax), or request your consultation by filling out our contact form today.
Candidates for Breast Augmentation with Lift
If you are a healthy, non-smoking woman with realistic expectations for your breast augmentation with lift, you are an ideal candidate for the procedure. This procedure also works well for those who want to improve the contours of their breasts after breastfeeding or a significant weight loss. If you happen to be a smoker, Dr. Michaels will consider performing the procedure if you are willing to quit for a few weeks. Since nicotine constricts blood vessels, quitting for a time will allow your body to heal optimally post-procedure.
Preparation
To get the best results possible, you should take the time to properly prepare for your surgery. Firstly, Dr. Michaels will evaluate your health through blood tests. Next, he will review your medications and supplements with you and make some adjustments. For example, he will require that you stop taking aspirin and other anti-inflammatories since they can thin the blood and contribute to unwanted bleeding during the procedure.
If you are a smoker, you should aim to quit about 6 weeks before your appointment date. This will allow your blood circulation to work at its very best so that you'll be able to heal quicker. Finally, since you'll still be under some of the effects of general anesthesia, Dr. Michaels requires that someone drive you home post-procedure. You should also take the time to make arrangements for someone to help you through your recovery. For the first few days, you'll have limited mobility and may need help with daily chores and planning meals.
Procedure Steps
Dr. Michaels' specific details for your procedure are determined by the degree of excess skin, the descent of the nipple, and whether or not you've had breast implants before.
After we have administered general anesthesia, Dr. Michaels will either make an incision around each nipple (periareolar incision) or a vertical incision from the nipple to the bottom crease of the breast (lollipop incision). He will then perform the breast lift portion of the procedure. He conducts this by modifying and tightening the tissues so that they are lifted and youthful once they heal. Then, he will form a pocket for your implants. If you've had breast implants before, he may take extra time to break up and remove any scar tissue. He will place your implant of choice and close your incisions with sutures. Depending on the extent of your procedure, he may place surgical drains that will allow the swelling to subside more quickly. The entire procedure takes about 2 to 4 hours.
Recovery and Results
Immediately after your procedure, you will feel groggy, and it will take some time for the general anesthesia to wear off. Over the next few days, you'll experience some temporary swelling, muscle tightness, bruising, and some discomfort. Within about 1 week, you'll be able to go back to work and incorporate some very light exercise into your daily routine. After roughly 3 to 4 weeks, you'll be able to begin moderate activity. After 2 to 3 months, most of the swelling from the procedure will have subsided, and you may return to all of your normal activities. Although breast implants are long-lasting, they are not permanent; usually, they last around 10 years before women need an aesthetic revision or implant replacement surgery.
Cost of a Breast Augmentation with Lift in Fairfax, VA
The cost of breast augmentation with lift will depend on various factors, including the complexity of your case, the type of implants used, the surgical technique employed, and the location of the practice. During your consultation, Dr. Michaels will provide you with a detailed breakdown of the costs involved and discuss any financing options that may be available to you.
If you're looking to feel comfortable with your body after implants and a breast lift, consider dialing (301) 468-5991 (Rockville, MD) or (703) 957-8610 (Fairfax, VA). We are also well-equipped to answer your questions through our contact page.
Read more about surgical and non-surgical breast and body contouring in Dr. Michaels' blog.
References
Shridharani SM, Bellamy JL, Mofid MM, Singh NK. Breast Augmentation. Eplasty. 2013;13:ic46. https://www.ncbi.nlm.nih.gov/pmc/articles/PMC3685325/
Salibian AA, Frey JD, Karp NS. Strategies and considerations in selecting between subpectoral and prepectoral breast reconstruction. Gland Surgery. 2019;8(1):11-18. doi: https://doi.org/10.21037/gs.2018.08.01