At Michaels Aesthetic and Reconstructive Plastic Surgery, Joseph Michaels, MD, FACS, sees many female patients who desire improvement in both the shape and size of their breasts. To help these women achieve their ideal breast size, he offers patients in Rockville and Fairfax breast augmentation cosmetic surgery, with saline or silicone implants.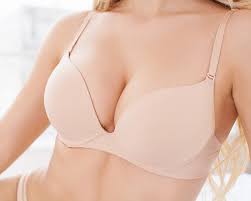 For some patients, enlarging the breasts with an implant only solves half the problem. For patients that also desire lifted breasts that are positioned higher on the chest wall, with elevation of the nipple to a more youthful position, a breast lift may be necessary at the same time as your breast augmentation. This combination is performed very frequently by Dr. Michaels for many of his patients, as pregnancy, nursing, massive weight loss and/or advancing age can often have negative effects on the shape of the breasts.
If any of this sounds familiar and you desire both more voluminous breasts as well as breasts that are lifted into a more youthful position on the chest wall, you may be an appropriate candidate for combination breast augmentation with breast lift surgery.
Consultation
Dr. Michaels offers the three types of breast implants that are approved by the FDA for use in breast augmentation: saline, traditional silicone gel, and highly cohesive silicone gel implants. Each type of implant offers its own advantages and disadvantages.
During your consultation, Dr. Michaels will discuss your aesthetic desires and evaluate your unique body frame. Following your consultation, you will have all the necessary information to determine which implant is best suited to meet your needs and goals. (He may also require that women of a certain age have a mammogram before pursuing breast surgery.)
In addition to deciding on the type of breast implant that is right for you, you will also need to make several other decisions about your breast augmentation procedure, including the location of the implant and the incision.
Before and After Photos
Implant Placement
Breast implants can be positioned either above (subglandular) or under (submuscular) the chest muscle. Again, each placement approach has its own pros and cons. The subglandular approach is appropriate for patients that have adequate breast tissue to cover the implant or for patients that have a very muscular chest. Recovery from implants in the subglandular position is often faster than submuscular implant placement.
The submuscular approach provides better coverage for the implant and is used in the majority of breast augmentations. As the implants are placed under the chest muscle, a slightly longer recovery period may be required. Deciding between a periareolar (around the areola) and inframammary (under the breast fold) incision pattern is another choice that will be discussed during your consultation.
The choice of incision pattern depends on several factors, including the type of breast implants you have chosen and if you require a breast lift along with your augmentation. Women requiring a breast lift in conjunction with augmentation may require additional incisions to optimize the breast shape.
Procedure
This procedure is performed when the patient desires an increase in breast size to restore volume and when the height of the nipple and breast needs to be elevated. The specific details of the procedure vary by patient, and will be predominantly determined by the degree of excess skin and the descent of the nipple from its optimal position.
Depending on these factors, some patients may require a more complex procedure than others. For instance, certain patients with only a modest loss of breast volume and minimal nipple descent may achieve their breast lift objectives with breast augmentation alone or with a breast augmentation and periareolar breast lift. On the other hand, patients with a large degree of breast ptosis (sagging) and nipple descent, as well as a severe loss of breast volume may require a breast augmentation and a lift procedure involving implant placement, excision of any excess skin, reshaping of the existing breast tissue mound and elevation of the nipple position.
Generally speaking, combination breast augmentation surgery with lift is an outpatient procedure, performed under general anesthesia.
After making an incision, Dr. Michaels creates an implant pocket and inserts the implant. Again, the implant pocket can be created over or under the chest muscle, depending on what you and Dr. Michaels decided on during consultation. Dr. Michaels then eliminates any excess skin, reshaping the existing breast tissue mound while moving it to a higher position on the chest wall. He will also lift and realign the nipple with the newly lifted breast and will reduce the size of the areola, if required. After closing the incision, he dresses the treated area with bandages and places a surgical bra over the dressing.
Quick Facts
Length
2-4 hours
Anesthesia
General
In/outpatient
Outpatient
Side effects
Temporary swelling, muscle tightness, bruising and some pain
Risks
Pain, bleeding, infection, asymmetry, damage to nerves (in rare cases), capsular contracture, need for revision
Recovery
4-7 days: back at work. 1 week: light exercise only. 3-4 weeks: more strenuous activity allowed. 8-12 weeks: swelling resolves and patient can resume normal activity
Duration of results
Variable, depending on patient
If you would like to learn more about breast augmentation with lift, click here or call (301) 468-5991 in Rockville, Maryland or (703) 957-8610 in Fairfax, Virginia to schedule a consultation.