Following pregnancy or weight loss, the abdomen might not have the tight, flat appearance desired. This may be due to excess skin, a weakening of the abdominal wall muscles, or a combination of both. Unfortunately, no amount of diet and exercise seems to restore a flatter, firm midsection.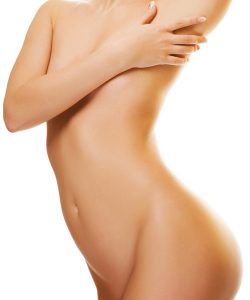 This is a very common problem. The only way to effectively regain a tight, flatter abdominal area after the aforementioned experiences is to undergo an abdominoplasty, or "tummy tuck" surgery*. Joseph Michaels, MD, FACS, is trained and experienced in body contouring cosmetic surgery, especially in abdominoplasty. Dr. Joseph Michaels is one of a few plastic surgeons who have completed a body contouring fellowship specifically dedicated to this specialized area of plastic surgery.
What is a Tummy Tuck?
A tummy tuck is a surgical procedure designed to contour the abdomen when diet and exercise do not produce results*. This is usually performed on those who have lost a large amount of weight or women after pregnancy. During tummy tuck surgery, Dr. Michaels removes excess skin and repairs the separated stomach muscles to give the abdomen a toned appearance*. In addition to the loose skin and loss of muscle tone, many patients also have stubborn areas of fat deposits that are also resistant to diet and exercise. Dr. Michaels will often combine targeted liposuction and mons rejuvenation with his tummy tuck procedure to achieve the optimal contour*. The result is a flatter, more toned midsection*.
Quick Tummy Tuck Facts
LENGTH
2-4 hours (depending on extent of procedure)
ANESTHESIA
General
IN/OUTPATIENT
Often inpatient with 1 overnight stay, but can also be safely done as an outpatient
SIDE EFFECTS
Temporary swelling, bruising, tightness and some pain
RISKS
Pain, bleeding, infection, rare damage to nerves, asymmetry, incomplete improvement, recurrent laxity
RECOVERY
1-2 weeks back at work. 2 weeks light exercise. 3 weeks more strenuous activity. 8-12 weeks for swelling to resolve and patient can resume normal activity.
DURATION OF RESULTS
Can be long-lasting if diet and exercise are maintained*.
*results may vary
Candidates
Good candidates for a tummy tuck include:
Those who are healthy and at a stable weight
Non-smokers
Those who have lost a significant amount of weight
Mom's who have attempted to lose their baby weight
Those with realistic expectations of what abdominoplasty can accomplish
Tummy tuck surgery is not designed as a tool for major weight loss. In fact, a tummy tuck is advantageous for individuals who have lost a substantial amount of weight and are suffering from the loose skin that commonly occurs as a result of massive weight loss. Suitable tummy tuck candidates are already at or near their ideal body weight, as significant weight loss following the procedure can counteract the aesthetic effects of tummy tuck. For this reason, Dr. Michaels advises that patients wait until they are close to their goal weight and finished having children before undergoing the procedure.
Additionally, a tummy tuck will not necessarily correct the look of stretch marks. Stretch marks that are located on the excess skin, especially those located on the lower abdomen below the belly button, may be directly removed along with the extra skin. The remaining stretch marks, although they may not have been directly excised, become less noticeable once the skin has been made taut with the tummy tuck surgery*.
*results may vary
Before & After Photos


Dr. Michaels' Abdominoplasty Techniques
There are several different abdominoplasty techniques that Dr. Michaels performs. Each tummy tuck is uniquely tailored to the individual. The technique chosen for an individual will depend on the severity of the case, the patient's anatomy and the desired outcome.
All tummy tucks include a mons lift; Dr. Michaels does not consider the two to be mutually exclusive. Performing one without the other can be equated to getting a facelift without getting a neck lift; the results are not harmonious. For all of his tummy tuck surgeries, Dr. Michaels does everything in his power to make the incision as low as possible so it is concealed within a bikini and underwear*. He often marks his patients in either a bathing suit or underwear to optimize the scar position.
Full Tummy Tuck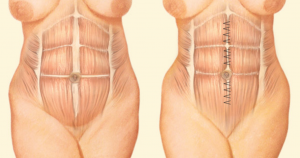 The most traditional of tummy tuck techniques, the full tummy tuck, involves tightening all of the abdominal muscles and removing lax skin from above and below the bellybutton*. This is the ideal technique for post pregnancy or massive weight loss patients*. Two incisions are used during a full tummy tuck surgery. One is made low from hip to hip near the pubic line. This is to gain access to the abdominal muscles and repair diastasis recti, as well as re-drape the skin for a smoother contour. The other incision is made around the bellybutton since the original bellybutton skin opening will be excised with the rest of the lax skin. The bellybutton remains intact during the whole process, so a new opening is made for it when the skin is re-draped. The pubic area incision is then closed.
Extended Tummy Tuck
An extended tummy tuck is used when a patient wants to address lax skin on the flanks, or love handles, in addition to the stomach*. The same technique as a full tummy tuck is followed, including tightening abdominal muscles above and below the bellybutton and removing excess skin, but a longer hip incision is used to address the lax skin on the sides of the midsection*. This is the most common type of tummy tuck performed for patients that have lost significant weight.
Mini Tummy Tuck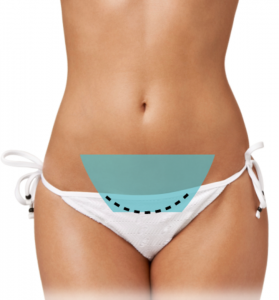 If a patient has poor muscle tone and excess skin limited to the area below the bellybutton, they may be a good candidate for a mini tummy tuck. This procedure focuses on muscle tightening and skin removal only in the lower abdomen. A mini tummy tuck will often result in a shorter incision and a quicker recovery compared to a full tummy tuck*. Dr. Michaels may also perform liposuction at the same time to achieve the best contour. A bellybutton incision is not required for a mini tummy tuck.
Fleur-de-lis Abdominoplasty (Anchor Tummy Tuck)
The fleur-de-lis abdominoplasty is reserved for those with an extreme amount of excess skin left from a significant drop in weight. These patients have excess skin that cannot be adequately removed through just a horizontal incision. This technique involves a vertical incision down the abdominal wall along with the hip-to-hip incision for maximum contouring ability.
*results may vary
Your Consultation
Dr. Michaels asks that all prospective tummy tuck patients contact his office to schedule a personalized consultation at either his Rockville, Maryland or Fairfax, Virginia location. Dr. Michaels will carefully listen to your goals and expectations from this procedure. With this information and his findings from the physical exam, Dr. Michaels will be able to determine if abdominoplasty is the right procedure for you, and if so, which individualized technique can provide you with your desired result*. He will customize a surgical plan, including preparation and recovery instructions to optimize your results. Dr. Michaels encourages you to ask many question; it is important to him that his patients have a full understanding of any procedure they undergo. Undergoing plastic surgery is not a decision to be made lightly, and he understands this. He will provide you with the pros and cons of the procedure, and together you will decide if abdominoplasty sounds like the right procedure for you.
The Procedure
Tummy tuck surgery is commonly performed on an inpatient basis, requiring one overnight stay, but we have many patients that do this procedure as an outpatient. It is always performed under general anesthesia, and takes between two and four hours to perform, depending on the complexity of the procedure and whether other procedures are being at the same time, including liposuction.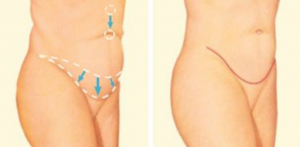 For all his abdominal contouring procedures, Dr. Michaels has patients wear a bathing suit or usual style of underwear and marks where the incision will go. This helps ensure that the incision is well concealed within the bikini or underwear line*. He also marks any area that will require liposuction.
After anesthesia has been administered, Dr. Michaels may begin with liposuction to remove fat deposits. The lower abdominal incision is then made, and the skin is elevated off of the abdominal wall muscles, up to the level of the rib cage. Dr. Michaels then repairs the underlying abdominal-wall muscle fascia. He tightens this layer of muscle by strategically placing internal sutures. He can also correct any small hernias that may present. Once he has restored the muscle tone, Dr. Michaels will re-drape the abdominal skin and eliminate the loose excess skin. He closes the incision with dissolvable stitches. For techniques other than a mini tummy tuck, a new incision is made to re-position the navel, or belly button, making sure it is aligned with the new contour of the abdomen*.
*results may very
Complementing Procedures
A tummy tuck will contour the abdomen by addressing lax skin and loose abdominal muscles, but the procedure itself does not directly address fat deposits outside of the area of skin removal*. For these areas, Dr. Michaels can perform liposuction at the same time as a tummy tuck to remove stubborn deposits of fat that aren't responsive to exercise*. Traditional liposuction provides long-lasting results and can achieve greater fat reduction*. In some cases, Dr. Michaels will use SculpSure, a non-surgical fat reduction procedure performed in the office, the correct stubborn fat deposits that are not adjacent to the abdomen. Since SculpSure is non-invasive, the fat loss is not immediate and it will take several weeks for the destroyed fat cells to naturally make their way out of the body*.
Dr. Joseph Michaels also offers an array of body contouring procedures at his Maryland and Virginia practices. Some other procedures patients often undergo at the same time as abdominoplasty include:
These are just a few of the available body contouring procedures Dr. Michaels performs. During your consultation, Dr. Michaels can discuss which other complementing procedures may be appropriate.
We look forward to helping you reach your body contouring goals.
*results may vary
Recovery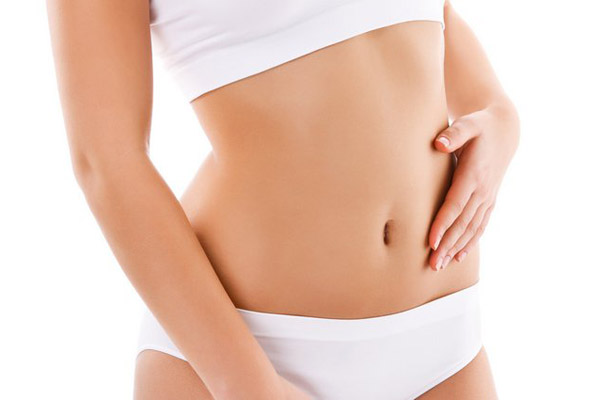 After tummy tuck surgery, patients will need to take about 7 to 14 days off from their job or usual schedule. It is important to rest as much as possible and avoid any strenuous activity, including heavy lifting. However, patients should walk around the house every few hours while awake to ensure proper blood circulation. Patients will often have drains in place following their procedure.
The treated area may be swollen, bruised, sore or numb*. These symptoms are common and should gradually subside with time. It often takes 8 to 12 weeks for the swelling to resolve completely and for the patient to realize his or her final result*. Dr. Michaels will provide patients with comprehensive care instructions during the preoperative office visit.
Cost
The price of a tummy tuck varies for all patients. Cost is based on the extent of the case, the technique undergone, and the addition of any complementing procedures such as a breast augmentation. Mons rejuvenation is included in the cost of a tummy tuck.
If you would like to schedule a private tummy tuck consultation, click here or call us in Rockville, Maryland or Fairfax, Virginia. We look forward to hearing from you.