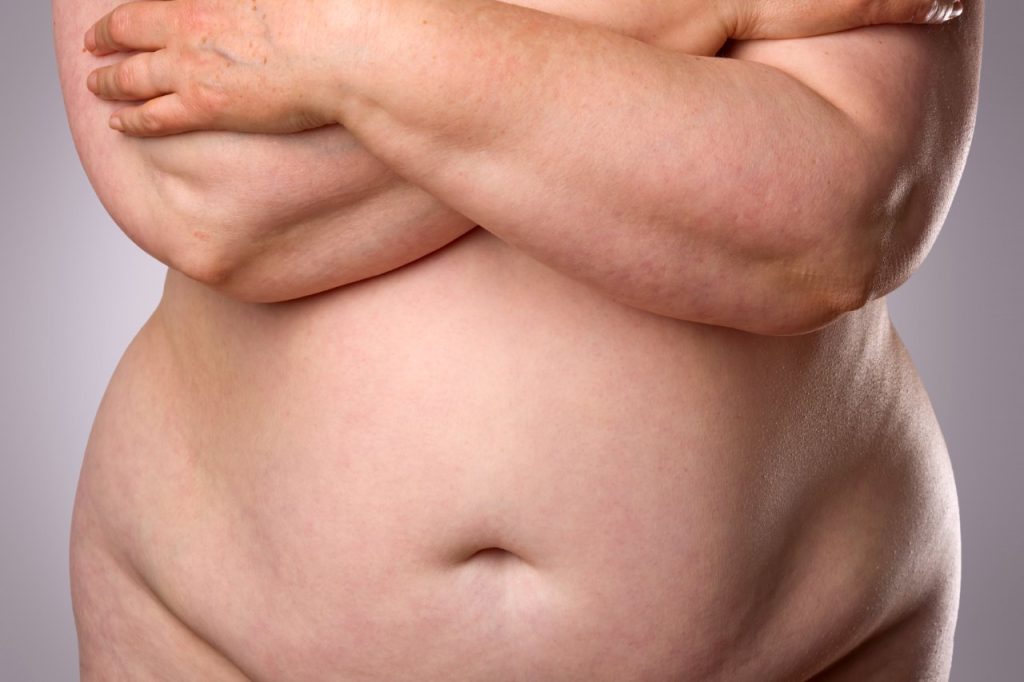 Panniculectomy is a transformative treatment that removes a panniculus or hanging "apron" from the lower waist following dramatic weight loss. Patients undergo weight loss surgery to get closer to their aesthetic dreams. However, while the treatment positively impacts many lives, it fails to address excess skin and tissue left over.  A panniculectomy allows patients to reach their ideal body aesthetic by removing this drooping skin from the abdomen. After surgery, patients will see a flatter contours for their midsection.
Dr. Joseph Michaels is a highly respected plastic surgeon and body contouring expert in the Washington D.C. area and is pleased to offer this treatment to patients who need surgical intervention. To see how you can benefit from this treatment, contact us for a personalized consultation by calling (703) 957-8610 (Fairfax) or (301) 468-5991 (Rockville).
About Panniculectomy
Obesity is a common problem in the U.S. and has been on the rise for the past 20 years. According to the Centers for Disease Control, obesity prevalence increased from 30% to 41% during this time.  [1] It is a condition that has a negative, lasting impact on patients' wellbeing. Each pound gained increases the likelihood of diabetes, heart problems, and death—which are preventable and treatable. Additionally, obesity has had a substantial influence on healthcare. In 2019, annual medical costs were approximately $173 billion. [2] 
Patients have proactively sought treatment through various life-saving weight-loss surgeries.
Bariatric surgery, an invasive surgery that restructures the digestive system to limit food intake, has experienced considerable interest in recent years. However, while this treatment has successfully treated obesity, it often leaves patients with excess skin around the body, including the midsection. This can be disheartening as patients looking to get a fresh start end up with an apron-like area of hanging tissue or panniculus, that can stretch from the abdomen, and cover the mons pubis and upper thighs. [2]
A panniculectomy solves this problem by removing the excess skin and tissue that causes uneven body contours. The simple procedure makes a horizontal incision that runs hip-to-hip, just above the pubic mons and a second onenear the breastbone. Then, Dr. Michaels will remove the panniculus, bring the remaining tissue together, and close incisions with sutures.
Benefits
Panniculectomy patients will see profound differences in their bodies. By the end of treatment, patients can look forward to a firmer, slimmer stomach and improved symptoms previously caused by excess skin and compromised hygiene. In particular, weight loss patients unable to achieve the optimal results on their own will feel an immense sense of accomplishment.
Panniculectomy Patients Will Also Experience:
Removal of hanging or drooping fat skin from the lower abdomen
Increase in comfort, mobility, skin hygiene, and posture
A desire to continue with their weight loss journey
A significant reduction in skin and hygiene issues
Heightened confidence and opens the door for new clothing choices
Candidates
Panniculectomy has helped many healthy patients overcome the hurdles of weight loss surgery by bringing them one step closer to the ideal body. To experience the benefits of treatment, patients should consult with Dr. Michaels to understand what treatment entails. Ideal candidates for a panniculectomy are:
Healthy individuals without heart conditions or diabetes
Within a healthy BMI
Non-smokers or willing to stop
Bothered by hanging, loose skin in the lower abdomen
Committed to faithfully leading a healthy life after surgery
Ready to make positive, realistic changes to their body
Personal Consultation with Dr. Michaels
Michaels Aesthetic and Reconstructive Plastic Surgery specialize in transforming patients' lives. We are proud to afford Washington D.C. residents the chance to improve their confidence and overall wellness with the help of various cosmetic and reconstructive treatments.
At your initial consultation, Dr. Joseph Michaels will get to know more about your unique journey and aspirations. To help us better understand your case, he'll ask you a series of questions regarding your health and past surgeries. He will follow this up with a body examination to determine if you'll benefit from a panniculectomy or similar procedures. He'll discuss your journey with a panniculectomy treatment once he's evaluated your case. Finally, he'll touch on how the process works, how to prepare, and how to care for yourself after surgery.
We invite interested patients to make a private consultation to see how they can achieve the body they desire. To reserve an appointment, contact us at (301) 468-5991 (Rockville) or (703) 957-8610 (Fairfax). You can also reserve your appointment online or schedule a virtual appointment.
Preparation
Preparing for your surgery weeks in advance will help alleviate stress and ensure a complication-free surgery. Dr. Michaels advises patients to take care of the following:
Smoking: Quit cigarette smoking and similar products a few weeks before to facilitate the normal blood flow needed for recovery.
Medicines: Limit intake of certain drugs such as blood thinners, NSAIDs, and supplements because they may cause excessive bleeding.
Prescriptions: Pick up the medication we've ordered for you from your local drug store.
Transportation: Designate a friend or family member to drive you home after surgery. Additionally, ask if they can assist you for the first two days after surgery. 
Weight: Non-bariatric patients should have achieved a stable weight for six months [1]
Fasting: Follow instructions on when to stop eating or drinking before surgery.
Procedure
Patients will first be given general anesthesia for a relaxing surgical experience. Next, an incision will be made under the breast bone. Then, a horizontal incision that runs hip to hip, just above the mon pubis, is made.[3]  Next, Dr. Michaels will commence the tissue removal process, which entails removing excess fat and skin from the area. When complete, he will close the incision with sutures. You will also be provided with a compression garment to protect your results and drains to collect excess fluids.
Recovery
Depending on your circumstances, you may stay with us overnight (inpatient) or be allowed to go home right after surgery (outpatient). Once cleared to go home, you can begin the recovery phase. Use this time to get plenty of rest because the after-effects of surgery will be the most noticeable in the first few days. You are likely to encounter swelling, bruising, discomfort, and fatigue. Take the medication we've provided you and rest with your legs at an elevated position. We'll give you further instructions on wearing the compression garments and how to care for your drains. Your symptoms should improve in 2-3 weeks, after which you can resume light activities and desk work. Activities requiring more physical strength can continue within six weeks.
Results
Noticeable differences in your body will be felt and seen right after your surgery. You will feel slightly less heavy because you've traded your excess tissue for a slimmer, flatter lower body that significantly reduces weight-related concerns, improves movement, and increases confidence.
As long as you remain committed to maintaining a stable weight and a healthy lifestyle, your new aesthetic will last for years.
Corresponding & Complementary Procedures
Michaels Aesthetic and Reconstructive Plastic Surgery offer several body contouring methods, each offering unique benefits. At your consultation, we may discuss:
Mons Rejuvenation
This treatment addresses excess skin and tissue near the pubic area. Dr. Michaels removes the unnecessary skin and tissue to provide an optimal appearance for the area.
Tummy Tuck
A tummy tuck or abdominoplasty shapes the contours of the abdomen into a slimmer, taut appearance. To do so, the surgeon removes excess skin and fat. Additionally, damaged abdominal muscles are repaired. 
Upper Body Lift
An upper body lift manages the excess skin draping from the upper body. Once excess skin and fat are removed, patients will see a firmer-looking back and abdomen.
Lower Body Lift
A lower body lift removes excess skin from the thighs, abdomen, and buttocks. The treatment provides better body contours and enhances self-esteem. 
Cost of Panniculectomy in Washington D.C.
The final costs of your panniculectomy will depend on your unique needs. We understand that financing is a high-priority concern. We'll give you an estimate at your consultation and direct you to five financing options. However, your treatment may be funded by your insurance company in certain circumstances. Please be sure to check with them for more details. 
FAQ
What is the difference between a panniculectomy and abdominoplasty?
A panniculectomy and abdominoplasty are not the same procedure. The main difference between them is the overall goal between the two. An abdominoplasty removes excess skin and fat, repairs weak abdominal muscles, and pulls the remaining skin taut for a slimmer, toned abdomen. A panniculectomy corrects hanging, bulging skin and fat from the abdominal core. Schedule a consultation to learn which is suitable for your specific needs.
References
CDC. (2022, May 17). Obesity is a Common, Serious, and Costly Disease. Centers for Disease Control and Prevention. https://www.cdc.gov/obesity/data/adult.html#:~:text=Obesity%20is%20a%20
Janis, J. E., Jefferson, R. C., & Kraft, C. T. (2020). Panniculectomy. Plastic and Reconstructive Surgery – Global Open, Publish Ahead of Print. https://doi.org/10.1097/gox.0000000000003029
Kuruoglu, D., Salinas, C. A., Tran, N. V., Nguyen, M.-D. T., Martinez-Jorge, J., Bite, U., Harless, C. A., & Sharaf, B. (2021). Abdominal Panniculectomy: An Analysis of Outcomes in 238 Consecutive Patients over 10 Years. Plastic and Reconstructive Surgery – Global Open, 9(11), e3955. https://doi.org/10.1097/GOX.0000000000003955