Rolls of fat on the back can be a significant source of embarrassment, but an upper body lift can correct these issues and make you feel confident in your own skin.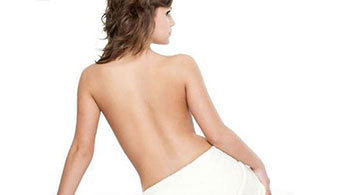 Following significant weight loss or with aging, multiple rolls can form on the back as a result of excess skin and fat in this area. This often results in what is called an "inverted-V" deformity where the rolls extend out from the middle of the back extending in an inferior and outward direction. These rolls can be a source of embarrassment causing you to keep a shirt on in warm weather or by preventing you from wearing certain cuts of clothing. For women, these rolls can also cause issues with wearing a brassiere.
The upper body lift is the main procedure used to contour the upper and lower back. Following this procedure, you will have a dramatic improvement in the contour of back. In many patients, this procedure is performed in conjunction with an arm lift or breast lift.
Before and After Photos
What is an Upper Body Lift?
An upper body lift may consist of one or more procedures, including an upper arm lift, breast lift, and back lift. The loose, sagging skin that's been bothering you will be tightened and given a smoother contour. This improves your look from every angle, but it particularly helps the profile.
Quick Facts
Length
2-3 hours
Anesthesia
General
In/outpatient
Usually outpatient, may require overnight stay if combined with other procedures
Side effects
Temporary swelling, bruising, tightness and some pain
Risks
Pain, bleeding, infection, rare damage to nerves, asymmetry, incomplete improvement, recurrent laxity
Recovery
1 weeks back at work. 1 week light exercise. 2 weeks more strenuous activity. 8-12 weeks for swelling to resolve.
Duration of results
Proper diet and exercise can prolong results
Am I a Candidate for the Upper Body Lift?
The upper body lift is a significant surgical procedure and, Dr. Michaels will insist that you be in good physical and mental health. If you have loose, sagging skin from weight loss, pregnancy, or liposuction and have maintained a stable weight for at least two years, you are a good candidate.
Some other things Dr. Michaels looks for in good upper body lift candidates are:
The layers of fat below your loose skin are thin.
You have loose skin by your armpits, under your arms, on your breasts, and fat rolls on your back.
You've been at a stable weight for at least six months with no further weight loss expected.
You are at least two years post-massive weight loss (if this is your situation), as this allows time for the skin to shrink on its own.
You should be exercising regularly and enjoying a healthy nutrition program, as these will aid in your recovery and results.
You don't smoke or you must agree to quit six weeks before surgery, as smoking can cause serious complications.
You've gotten clearance from your primary care physician for these body contouring procedures to ensure you're in good enough health to undergo such a procedure.
How do I Prepare before an Upper Body Lift?
As previously mentioned, cessation of smoking will be necessary for preparing for a successful upper body lift. Some other pre-surgery items you'll likely be tasked with are as follows:
Getting a lab test or medical evaluation.
Taking certain medications and/or adjusting medications you're currently taking.
Stopping aspirin intake or other anti-inflammatory drugs and herbal supplements that risk the increase of bleeding.
Arranging for a ride home if your procedure is deemed ideal to perform on an outpatient basis, which will be determined when you have your consultation with Dr. Michaels.
Arranging to take off the necessary days of work for an overnight stay at the hospital (if it's deemed necessary) and for recovery time.
Upper Body Lift Procedure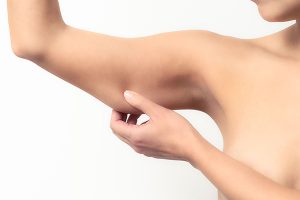 This is a highly subjective experience, as it will all depend on what you and Dr. Michaels decide on as part of your treatment plan when you have your personal, private consultation. There are several techniques he uses with regularity to help his patients achieve their ideal contour. You'll almost certainly be put under general anesthesia. Below is some information on some common procedures performed in conjunction or as part of a larger body contouring treatment plan.
Upper Arm Lift
Also known as brachioplasty, the upper arm lift may begin by removing the fat from the arms by using liposuction. For those who have experienced significant weight loss, Dr. Michaels will make an incision under the arm or along the back of your arm. The incision could extend along the upper chest wall and toward the back. Excess skin will be removed through this incision.
Breast Lift
In the case of the breast lift, three incisions are typically made—one that extends from the bottom edge of the areola down to the inframammary fold (breast crease), one around the areola, and one underneath the breast. Dr. Michaels then removes excess skin through these incisions and relocates the nipple and areola to an elevated position.
Back Lift
The back lift is how fat rolls on the back are removed. Dr. Michaels will make incisions on both sides of the midback or near the bra line for women. He then removes the excess skin from this area and closes it up using sutures, tape, or glue.
Results
The upper body lift has been found to be extremely effective in removing large amounts of excess skin and smoothing out upper body rolls that appeared as a result of massive weight loss. Your underlying supportive tissue is lifted and tightened. This helps to sculpt and contour the upper body closer to your ideal shape.
Recovery
Dressings or bandages will be applied to your incisions once the procedure is complete.
Small, thin tubes are sometimes temporarily placed under your skin in order to drain any excess blood that collects. You'll either be tended to by our expert staff in our recovery area and sent home with your designated driver or you may be asked to stay a night or two in the hospital. Again, this all depends on the extent of the procedures done.
For the upper arm lift surgery, compression garments will be placed around in the incision sites to prevent clotting and aid in healing. You will be advised to keep your arms above your heart for a few days after the procedure. You'll regain full function of your hands and arms about 2-3 weeks after surgery. Those who have had a breast lift will most likely find gauze over your breasts post-surgery. You may also have drain tubes inserted. Those are typically removed after a few days.
If back fat has been removed, a compression garment will be placed around the incision sites. You may be asked to avoid lying on your back until the recovery is complete. No matter what has been done, you'll likely be asked to walk around and move shortly and relatively frequently after the upper body lift, as Dr. Michaels will want to avoid any issues that can arise from blood clots.
Dr. Michaels's staff will ensure that you leave with very detailed post-op instructions, including when to return for your follow-up appointment, how to care for drains, when you can resume normal activities, how to manage bathing, information on any medications needed, and more. As always, however, feel free to ask Dr. Michaels any questions you have to ensure your recovery goes off without a hitch.
Consult with Maryland's Top Ranked Body Contouring Specialist
There are several techniques to help you obtain the contour you desire. During your consultation, Dr. Michaels will carefully listen to your concerns and create a treatment plan that will allow you to achieve your goals. Dr. Michaels is a renowned plastic surgeon and an authority in body contouring. He has completed one of the few fellowships dedicated to this specialized area of plastic surgery.
Think of your upper body lift consultation as the perfect way for you and Dr. Michaels to get on the same page as far as your goals for your ideal contour. First and foremost, he'll need to know whether you want to focus on arms, back, or chest (or all three).
He will examine these areas and might even draw lines to indicate where the fat pockets can be removed. Dr. Michaels will likely show you before and after photos from previous upper body lift patients, which can often lead to great discussions on what your goals are. Be sure to write down any questions you have, as you might get overwhelmed or a bit nervous after finally getting the consultation you've likely been considering for a long time. Some good questions to ask are:
Am I a good candidate for an Upper Body Lift?
Will my scars be visible?
What can I do to ensure the best results?
Are there any risks associated with this procedure?
How long will I be out of commission after the surgery?
What kind of anesthesia do you recommend for my case?
Dr. Michaels will have his own questions, which will likely include the following?
Do you have any preexisting conditions?
Do you have any drug allergies?
Have you had previous surgeries?
What medications are you currently taking?
What are your goals for this procedure?
What is your history with cosmetic procedures?
What is your intake, if any, of alcohol, tobacco, and recreational drugs?
After evaluating you (which may include taking photos of your problem areas) and your overall health and discussing your goals, Dr. Michaels will evaluate whether the upper body lift is the way to go to achieve the aesthetics you seek. If he does think you're a good candidate, he will develop a treatment plan for you, you'll be given a price quote, and you'll be sent home with very detailed information on the procedure and how to best prepare.
Cost of Upper Body Lift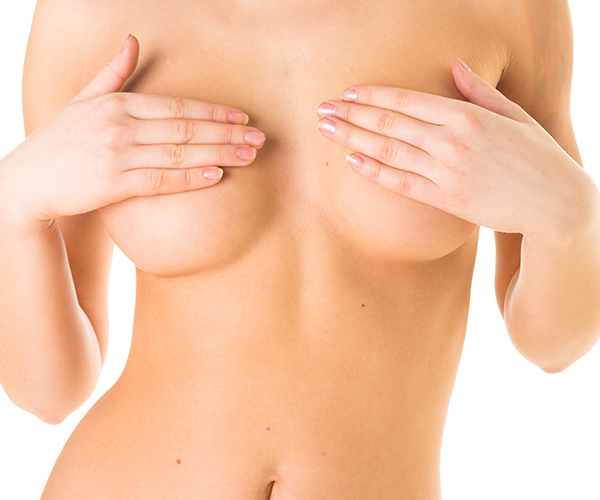 The cost of your upper body lift will vary based on the techniques Dr. Michaels decided upon to best achieve your goals. After presenting your concerns and coming up with a treatment plan during your consultation with Dr. Michaels, you will be given a price quote for the procedure. Don't suffer another minute from the low self-esteem you've been experiencing. Contact our office and schedule a consultation today.
There are several techniques to help you obtain the contour you desire. During your consultation, Dr. Michaels will carefully listen to your concerns and create a treatment plan that will allow you to achieve your goals. Dr. Michaels is a renowned plastic surgeon and an authority in body contouring. He has completed one of the few fellowships dedicated to this specialized area of plastic surgery.
Patients travel from throughout Washington D.C., Maryland and Northern Virginia to seek treatment at Dr. Michaels' Rockville practice. If you would like to learn more about the upper body lift, click here or call (301) 468-5991 in Rockville, Maryland or (703) 957-8610 in Fairfax, Virginia to schedule a consultation.