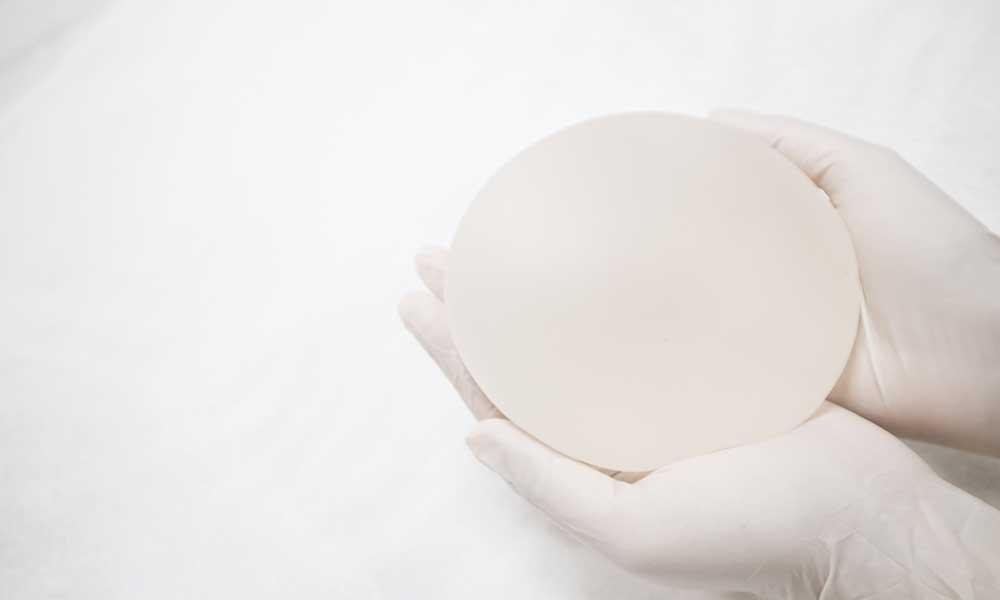 Nothing is permanent and everything can be improved.
As you mature, your perceptions of beauty and wellness evolve. Sometimes, your image from years ago just does not match the person you are today. If you are dissatisfied with your breast implants, Dr. Joseph Michaels can help.
Whether your implants need adjustment, replacement, or removal, Dr. Michaels and his knowledgeable staff are ready to listen to your enhancement goals. Please contact us at your convenience and tell us how we can be of service.
About Breast Implant Removal
Breast implants are designed to last a very long time, but they are not intended to be permanent. The FDA recommends that women consult their physicians every 10 to 15 years to determine which removal or exchange procedure your implants need. Every case is unique and every client travels their own journey toward aesthetic enhancement. The following options are meant as a guide to assist you through through your exploration of implant maintenance. While the ultimate decision is up to you, Dr. Michaels is here travel this journey with you.
Implant Replacement
If you want to upgrade breast implants you received in the past, Dr. Michaels has several selections from which to choose. Saline implants are filled with a safe, sterile saltwater solution that the body absorbs naturally in the event of a rupture. Silicone implants contain a firm, non-toxic gel used to plump the breast. For increased firmness, Dr. Michaels also offers the new "gummy bear" implants. These implants contain a more cohesive silicone gel that maintains a "teardrop" anatomical breast shape. Dr. Michaels can explain your various implant options if you are interested in replacing your previous implants.
Explant Surgery
Instead of exchanging their implants, some patients would rather have them removed. This is called an explant procedure, and it reverses the process of the initial implant surgery. If your implants no longer reflect your ideal self, then explant surgery may be perfect for you. Some trends of the past are no longer en vogue, and clients often want to embrace a slimmer, more contoured look. Dr. Michaels can remove your implants and improve your shape.
En Bloc Procedure
When a breast implant is inserted into the chest, the body often reacts by forming a capsule of tissue to encase the implant. If you remove an implant, that capsule may remain embedded in the breast cavity.[1] Some clients wish to take out the capsule along with the implant, all in one convenient procedure. This is called en bloc surgery.
Capsulectomy
Some patients choose to have their implants and capsules removed in separate procedures. After implants are taken out, the remaining capsules may cause discomfort or displeasure. In these cases, Dr. Michaels can perform a capsulectomy to remove the capsule material and restore your natural form.
To discuss which implant removal procedure is right for you, call (301) 468-5991 or (703) 957-8610 and ask one of our experienced team members for guidance.
Benefits
Implants may not be perfect for every person's body. When breasts are enlarged, they add a new shape and curvature to the bustline. Most patients welcome the changes brought on by breast augmentation, but others may react differently. If you are unhappy with the look or feel of your breast implants, then you may benefit from a removal or exchange procedure.
Dr. Michaels has received rave reviews for his achievements in contouring and shaping his clients' figures. By removing unwanted breast implants, Dr. Michaels can bring balance to a woman's form. Implant removal and/or exchange procedures can replenish your youth, slim your silhouette, and bring you one step closer to cosmetic satisfaction.
Candidates
There are several reasons why an individual may want their breast implants removed. Ideal candidates for explant or implant replacement procedures are as varied as their cases.
If you are in good health and your weight is relatively stable, then you might be a perfect candidate for a breast implant removal surgery.
If your implants cause you discomfort or displeasure, then an explant procedure might work best for you.
If the tissue surrounding your implant has gotten tighter or harder, then you may want to consider an en bloc capsulectomy surgery.
In the rare case that your implants are leaking or vulnerable to rupture, then you should schedule a removal or replacement procedure. We want to support your continued health and happiness, and we respect your input throughout your enhancement journey.
In a small number of cases, textured implants have been linked to the occurrence of breast implant-associated anaplastic large cell lymphoma (BIA-ALCL).[2] This is a rare condition that is treatable through early detection and care. If you received textured breast implants in the past and have questions about their removal, please contact our offices. Your health is our utmost priority and we want to help alleviate any concerns you may have about BIA-ALCL.
Book Your Personal Consultation
The process of removing or exchanging implants is precise and thoughtful. There are many important details that go into any enhancement procedure, and Dr. Michaels will walk you through the specifics of your case during a private consultation.
You can discuss your past implant procedures, express your improvement goals, and discuss realistic strategies to accomplish remarkable results.
Dr. Michaels will take the time to answer your questions, present you with an array of options, and make a plan for what steps to take next. In the meantime, please visit our Blog to stay current on cosmetic news and trends in Rockville, MD and Fairfax, VA. 
Preparation
During your consultation, Dr. Michaels will provide you with personalized instructions on how to prepare for your implant removal procedure. While these directions will vary from client to client, it is advisable to quit smoking weeks prior to any surgery.
Dr. Michaels encourages you to plan ahead by asking a friend or family member to assist you on the day of your procedure.
This person will need to drive you to and from our clinic and look after you in the 24 hours following your implant removal surgery. You should fill any prescriptions before the date of your implant removal to make sure you have everything you need for a speedy recovery.
Procedure
When you arrive at your local Rockville or Fairfax clinic, our team will attend to your needs. Please wear loose clothing on the day of your surgery. You will receive the proper anesthetic to ensure comfort throughout your implant removal procedure. The duration of an explant surgery is typically anywhere from one to three hours. 
The exact details of an implant removal surgery depend on the nature of the implants themselves. For example, if your implants are positioned above your pectoral muscles, then they require a different approach than submuscular implants.
Dr. Michaels is an expert at achieving optimal aesthetic enhancements, regardless of the procedure.
Breast implant removal is an outpatient surgery. After your incisions are skillfully sutured closed, you will be allowed to return to the comfort of your home to begin the recovery process.
Recovery
Rest is the key to healing. Allow your body enough time to adapt to any changes it may experience. Do not exert yourself in the days following your implant removal surgery. Dr. Michaels might recommend light exercise like walking or gentle stretching, but follow his instructions carefully. Each case varies, so your recovery is as individual as you are.
Most patients return to work about one week after breast implant removal. Do not push yourself. Dr. Michaels will schedule a follow-up appointment to assess your recovery and recommend further directions.
Results
Your appearance makes a statement to the world. If you are dissatisfied with any contours of your body, Dr. Michaels wants to help. Patients who receive breast implant removal surgery can achieve the look they want and the feel they desire. Many clients who have their implants removed also opt for mastopexy treatment, which lifts and contours the breast to a patient's specifications.[3] To determine which avenue leads to your aesthetic destiny, contact our offices.
Cost
If you live in the Washington, DC area, or if you plan to be in the vicinity, Dr. Michaels offers world-class cosmetic solutions at affordable rates. Pricing should never stand in the way of your aesthetic or wellness needs. For breast implant removal financing options, please consult our helpful staff.
FAQ
Is breast implant removal safe?
Yes. Dr. Joseph Michaels is a board certified plastic surgeon serving the communities of Washington, DC, Rockville, Maryland, and Fairfax, Virginia. His expertise has qualified him to deliver remarkable results while always keeping your safety and health at the top of his priorities list.
Should my breast implants be removed?
If you are concerned about BIA-ALCL or any other implant related complications, please contact Dr. Joseph Michaels and his caring staff. The FDA recommends evaluation of breast implants every 10 to 15 years, but you should not wait to receive quality healthcare. Your case is unique and it deserves the attention of a dedicated professional, like Dr. Michaels. 
References
Rockwell, W., Casey, H., & Cheng, C. (1998). Breast capsule persistence after breast implant removal. Plastic and Reconstructive Surgery, 101(4), 1085-1088. DOI: 10.1097/00006534-199804040-00031
O'Neill, A. C., Zhong, T., & Hofer, S. O. P. (2017). Implications of Breast Implant-Associated Anaplastic Large Cell Lymphoma (BIA-ALCL) for Breast Cancer Reconstruction: An Update for Surgical Oncologists. Annals of Surgical Oncology, 24(11), 3174-3179. https://doi.org/10.1245/s10434-017-6014-0
Netscher, D., Sharma, S., Thornby, J., Peltier, M., Lyos, A., Fater, M., & Mosharrafa, A. (1997). Aesthetic outcome of breast implant removal in 85 consecutive patients. Plastic and Reconstructive Surgery, 100(1), 206-219. DOI: 10.1097/00006534-199707000-00032