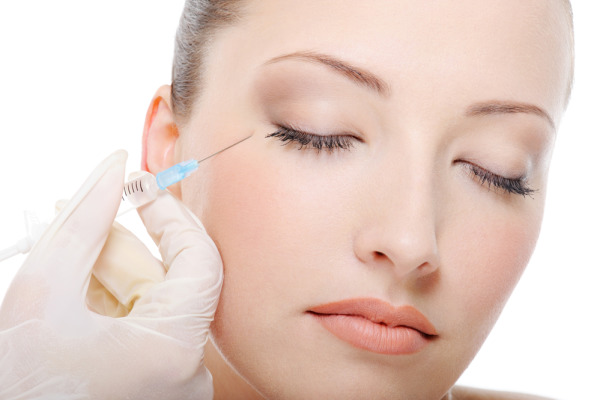 Dermal fillers are a collection of minimally invasive treatments used to rejuvenate and enhance the appearance of the face.
As we age, the production of our skin's collagen, an essential component that nourishes the skin, decreases. Consequently, fine lines, wrinkles, and creasing start to show. Dermal fillers can alleviate these signs of aging and restore a younger appearance. These minimally invasive, cost-effective injectable treatments are a great alternative to surgical intervention. Dr. Joseph Michaels is dedicated to creating natural, satisfying results for each patient. To learn more about dermal fillers, schedule a consultation at any of our offices in the Washington DC area. Or, you can call us at (301) 468-5991 (Rockville, MD) or (703) 957-8610 (Fairfax, VA).
Before and After Photos
About Dermal Fillers
The popularity of dermal fillers has seen a sharp increase because of the easy, inexpensive, and natural-looking results they provide. According to the American Society for Aesthetic Plastic Surgery (ASAPS), dermal filler treatments have doubled in the past 10 years. In 2019, nearly 4 million were performed! [1] This placed them as the second most popular non-surgical treatment in the country! Growing awareness and acceptance of these fillers have led to a rise of improved dermal filler products that correct soft-tissue volume loss, fine lines, and minor creases caused by aging. These fast, safe, and effective treatments have restored beauty and radiance to millions of people worldwide, including our patients. Dr. Michaels offers a wide range of fillers that can rejuvenate your skin all without surgery.
Hyaluronic Acid Fillers (HA)
Our bodies naturally produce hyaluronic acid (HA) to hydrate our tissues and nurture our skin. When injected into the skin, the hyaluronic acid in the filler attracts water molecules, and can hold up to 1,000 times its own weight in water. The HA used in our collection of fillers is specially designed to prevent the body from processing them too quickly, leading to lasting plump skin.
Juvederm
Pharmaceutical company Allergan, the same makers of BOTOX and CoolSculpting, created Juvederm as a family of cosmetic dermal fillers that eliminates fine lines and wrinkles and adds filler to the lips and cheeks.
Restylane
Restylane is another HA dermal filler that aims to minimize wrinkles, folds, and creases all by facilitating the regeneration of collagen, elastin, and restoring HA. Patients can target different areas of the face, including the lips, cheeks, and around the eyes.
Sculptra
Manufactured by Galderma, Sculptra is another class of filler. It contains poly-L-lactic acid (PLLA), a biocompatible synthetic filler that gradually stimulates collagen production and reinforces the underlying skin's structural support. As a result, patients can see facial wrinkles and folds diminished. Best of all, patients can enjoy long-lasting results of up to two years. [1] Usually, Sculptra's patients may need three injections over 3-4 months.
Benefits
Dermal fillers provide patients with a refreshed, smooth face without the appearance of fine lines and wrinkles. Those interested in a dermal filler treatment should also consider these added advantages:
Fast, Visible Results
When the dermal filler is injected into the targeted area, the formula adds volume and eliminates fine lines almost instantly. Continued results will gradually blossom as the weeks go by.
Quick Treatment With No Recovery Needed
In under an hour, patients can fit a treatment session that provides improved contours to the face. Once done, you can leave our office and resume your life the way you left it.
Long-Lasting Results
Depending on the filler used and the treated areas, patients can see their results last anywhere from 6-24 months. Additional touch-up appointments can maintain results.
Increased Confidence
Dermal fillers enhance your facial feature in a subtle yet noticeable way. As a result, patients can look and feel their best without worrying about stubborn fine lines, wrinkles, and hollow features.
Candidates
Dermal fillers are for healthy individuals looking for an easy, minimally invasive facial treatment that addresses creases, hollow cheeks, and nasolabial folds. Our suite of soft tissue fillers is an excellent choice for patients reluctant to undergo surgical measures. However, while these treatments are beneficial, they may not be for everyone.
Below is a list of prospective candidate requirements.
Be in overall good health
Have mild to severe folds and wrinkles
Do not have a skin breakout
Are not pregnant or breastfeeding
Have reasonable outcomes in mind
A consultation with Dr. Michaels will determine your eligibility and which filler will work best for you. Schedule your appointment by filling out the contact form or calling our Rockville office at (301) 468-5991 or the Fairfax office at (703) 957-8610.
Personal Consultation with Dr. Michaels
Dr. Joseph Michaels is a board-certified plastic surgeon serving the greater Washington D.C. area. He is proud to provide patients with an extensive choice of cosmetic and reconstructive surgical options. Dr. Michaels and his staff are highly skilled in performing facial rejuvenation, breast and body contouring, and post-weight loss surgical procedures.
Your consultation will take place at either our Rockville or Fairfax offices. This informative sit-down with Dr. Michaels will discuss your medical history and aesthetic goals in better detail. This will give us a better sense of your expectations and desires. Then, we'll examine your facial skin and pay attention to elasticity in the areas of concern. Once we have developed your plan and selected the appropriate filler, we'll discuss how these noninvasive treatments will provide a youthful glow to your face. Finally, we'll end the consultation by giving you a small list of pretreatment items to take care of before your session. Please follow these instructions carefully to ensure a streamlined process.
Visualize a new visage by scheduling your consultation with Dr. Michaels. We recommend prospective patients peruse our insightful blog posts to understand more about the procedures we offer.
Preparation
Preparing for your dermal filler procedure is incredibly simple. Nonetheless, there are some items for you to complete a few weeks before treatment.
They include:
Avoid using OTC blood-thinning medication such as Motrin, ibuprofen, and Aleve
Do not use topical products such as Tretinoin
Refrain from waxing, bleaching, tweezing, or hair removal creams
Abstain from alcohol 24 hours prior
Arrive at your appointment with a clean face
Procedure
Depending on which dermal filler is selected, you may have an anesthetic or a nerve blocker to maximize your comfort. Our staff will then inject the filler into the treatment areas. You may feel some slight discomfort as we inject the filler, but this will be temporary. Next, our staff may gently massage the areas to spread the filler evenly. [2] Once the desired aesthetic look is attained, you are free to leave our care. The entire process should take place in under an hour.
Recovery
The aftercare process of dermal fillers is uncomplicated. Since there are no incisions or surgery involved, you can go back to your life without a lengthy recovery.
Below are a few items to watch out for during the recovery stage:
Expect minimal bruising or swelling to occur around the injection areas
Apply an ice pack and Arnica to reduce swelling
Use Tylenol to minimize discomfort
Wait a day before returning to strenuous activities
Refrain from scratching, itching, picking, or touching the injection sites for three days
Sculptra patients: Massage the area five times a day for five minutes. Do this for the next five days.
Limit sun exposure and protect your skin with sunscreen 30 SPF or greater
Rapid Results
Patients may see readily noticeable results after their session. Continued results will show gradually as time progresses. Results from Sculptra may take up to six weeks for results to show. [2] This is because the Sculptra particles stimulate the body's natural production of collagen, which takes time. Full results can typically be seen after 2-3 treatments.
Cost of Dermal Fillers in Washington D.C.
Dermal filler treatments are significantly more cost-effective than other treatments because of their non-surgical nature. The final cost considers the number of areas treated, the amount of cosmetic used, and the number of sessions required to achieve your ideal aesthetic. To anticipate the cost of your treatment, schedule a consultation with Dr. Michaels. Also, be sure to look through our financial resources and occasional specials to make your treatment more cost-effective.
FAQ
Do dermal filler treatments hurt?
Patients may feel minor discomfort during the process. However, our staff may give you an anesthetic, so you will feel relaxed and comfortable. Some fillers such as Juvederm contain lidocaine to maximize comfort.
How long will dermal filler results last?
The longevity of your results will depend on the filler used to achieve your look. However, most patients enjoy their results for up to a year. After that, additional filler treatment can prolong the results. 
Are dermal filler results natural-looking? 
Patients can count on a natural look with a filler treatment. Our expert staff understands the importance of providing patients with a look that isn't overdone or exaggerated.
References
Pavicic, T., & Funt, D. (2013). Dermal fillers in aesthetics: an overview of adverse events and treatment approaches. Clinical, Cosmetic and Investigational Dermatology, 295. https://doi.org/10.2147/ccid.s50546
Sickles, C. K., Nassereddin, A., & Gross, G. P. (2021). Poly-L-Lactic Acid. PubMed; StatPearls Publishing. https://www.ncbi.nlm.nih.gov/books/NBK507871/