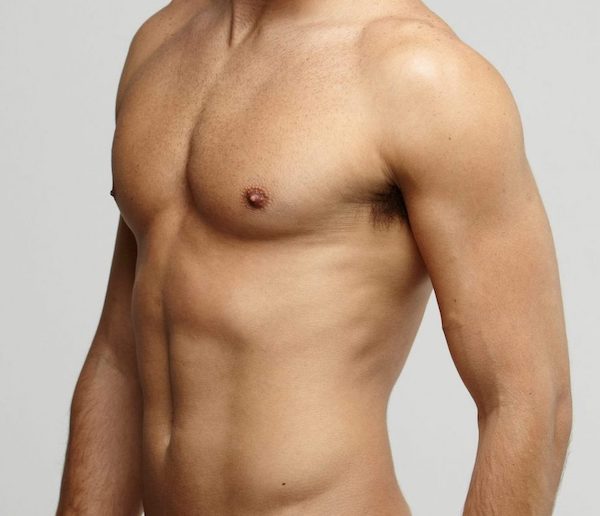 Despite leading a healthy lifestyle or following weight loss, your abdomen may not have the tight and flat appearance you want. This may be due to either excess skin or weakening of the abdominal wall muscles or a combination of both.
A tummy tuck will recontour your midsection by removing the excess skin and tightening the muscle fascia to give the abdomen a toned appearance. Dr. Michaels will often combine a tummy tuck with targeted liposuction to achieve the optimal contour. Regain your masculine contours with a tummy tuck at Joseph Michaels Plastic Surgery!
What Is A Tummy Tuck?
A tummy tuck will restore your masculine figure.
A full tummy tuck involves a low lying incision placed in the pubic region extending from hip to hip. Prior to your procedure, Dr. Michaels will mark your incision either in a bathing suit or underwear to help ensure your incision remains hidden. During your procedure, the skin of the abdomen is elevated exposing the underlying abdominal wall muscle fascia. This layer is then tightened with permanent sutures. Your excess skin is then removed and your belly button is repositioned through a new incision.
If you have poor muscle tone and skin excess limited to the area below your belly button, you may be a good candidate for a mini tummy tuck. This procedure focuses on muscle tightening and skin removal only in the lower abdomen. A mini tummy tuck will often result in a shorter incision and a quicker recovery compared to a full tummy tuck.
Maryland plastic surgeon, Dr. Michaels may perform liposuction at the same time to achieve the best contour. Tummy tucks are performed under general anesthesia and can be performed as an outpatient procedure in select patients. Patients will often have drains following their procedure. Strenuous physical activity will be gradually permitted following your procedure. It often takes 8-12 weeks for the swelling to resolve and for you to realize your final result.
Quick Facts
Length
2-5 hours (depending on extent of procedure)
Anesthesia
General
In/outpatient
Usually inpatient with 1 overnight stay, outpatient in select cases
Side effects
Temporary swelling, bruising, tightness and some pain
Risks
Pain, bleeding, infection, rare damage to nerves, asymmetry, incomplete improvement, recurrent laxity
Recovery
1-2 week back at work. 2 weeks light exercise. 3 weeks more strenuous activity. 8 – 12 weeks for swelling to completely resolve
Duration of Results
Can be permanent if diet and exercise are maintained
What Are The Benefits of A Male Tummy Tuck?
The primary advantages of a tummy tuck, also known as an abdominoplasty, is that it will smooth out your stomach and help you achieve a toned, sculpted abdomen. A tummy tuck is an excellent treatment for men recovering from obesity and who have undergone weight loss surgery. After weight loss, you may be left with sagging skin that collects around the midsection. Stretched skin can be frustrating and a source of embarrassment. A tummy tuck will help you regain your toned, attractive body. With just one treatment, you can enjoy a smooth, sexy abdomen!
Who Is An Ideal Candidate For A Tummy Tuck?
This treatment is ideal for healthy, active men who have excess skin around their midsection. Do you want a toned stomach or maybe even a six-pack back? You will get your best tummy tuck from our surgical team! This surgery is a great solution to a loose midsection, schedule a consultation with us today to learn more.
Personal Consultation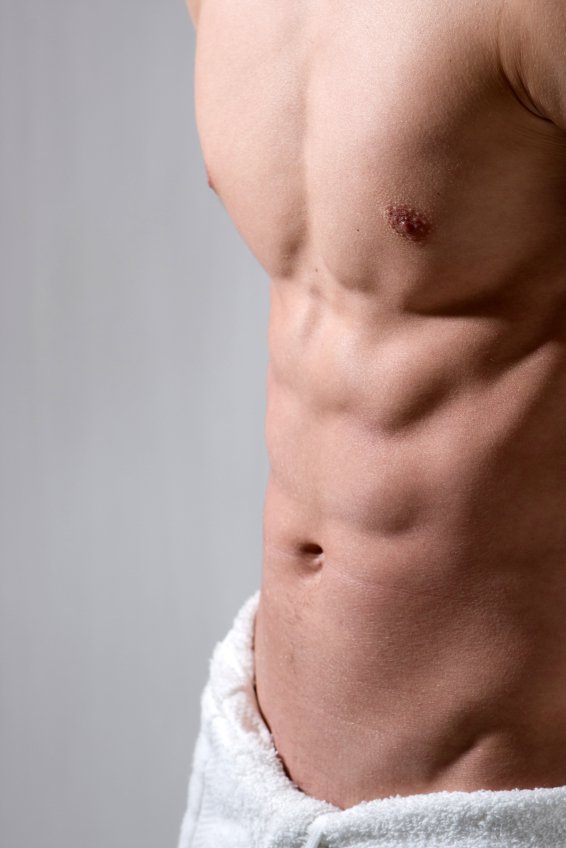 In your personal meeting with Dr. Michaels, you will have the chance to learn more about the surgical process of an abdominoplasty. You will be asked about your health, lifestyle, past surgeries, and allergies. This information will help us gain an understanding of your health and judge whether or not a tummy tuck is a good solution.
Together, you and Dr. Michaels will create a personalized treatment plan for you that is safe and focuses on your aesthetic goals. A look through tummy tuck before and after photos will help you gain a realistic expectation of what the surgery will accomplish. Be sure to voice any concerns or questions during your consultation as you have the unique opportunity to discuss the surgery with an expert.
Tummy tuck surgeries are often combined with liposuction techniques. Dr. Michaels specializes in SmartLipo, VASER liposuction, power-assisted liposuction, and traditional liposuction. If liposuction is something you are interested in, you and Dr. Michaels will discuss which technique is ideal for your body goals and whether or not it can be incorporated in the surgery.
Your tummy tuck procedure will be planned out and Dr. Michaels will inform you how to prepare for the appointment.
How To Prepare For A Tummy Tuck
The first step to a stress-free surgery is to pick up prescribed medications. Arrange rides to and from the appointment and for someone to stay with you for the first day of your at-home recovery. Twelve hours before your surgery, you will need to fast from liquids and foods. Get a good night's rest and dress comfortably in the morning.
Procedure
A tummy tuck is often paired with liposuction to reduce unwanted fat stores and truly enhance the masculine contours of your midsection.
You will sign in and change into a gown. The surgical team will greet you and prepare you for surgery. Incision sites will be cleaned and marked. General anesthesia will be administered to provide comfortable surgery. Once the anesthesia has taken effect, Dr. Michaels will begin the tummy tuck surgery.
An incision will be made along your lower abdomen above your pubic hairline. The length of this incision will vary based on the extent of skin needing to be removed. Once the incision has been made, the skin will be lifted and the underlying muscles will be mended and tightened. Unnecessary skin will be trimmed off and the remaining skin will be stitched back together.
The result of this surgery will be a strengthened, smooth abdomen. A tummy tuck procedure can take between two to five hours. After your incisions have been closed, they will be bandaged and you will be taken to a recovery room where you will be monitored.
Tummy Tuck Recovery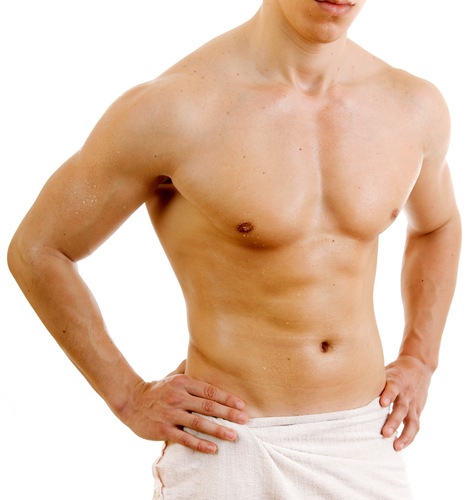 After your surgery, your abdomen will be sore and swollen. Pain medication will help control any discomfort and help you rest. You will need to be careful not to strain the incisions or abdominal muscles. Get plenty of rest and stay hydrated. You will need to avoid strenuous activities for about three weeks. Most patients are able to return to work after a week or two. This will vary based on the type of job you have and whether it is physically demanding.
Brief walks will improve your circulation and aid in the mending process. Be sure to rest when you feel tired. Trust your body during recovery as it will send you signals for when you need to take a break. Take it easy and enjoy some time to yourself as you recover.
A follow-up appointment will allow our staff to monitor your healing process and ensure you are healthy.
Results
Each patient of ours has a unique recovery timeline. Most patients see an immediate improvement in their abdomen following surgery. As swelling and bruising diminish, the final results will be more visible. This process will take a few weeks and you won't be fully healed for a few months. Your tummy tuck results are long-lasting and with a healthy, active lifestyle will last you many years!
What Is The Cost Of A Tummy Tuck?
Abdominoplasties are customized procedures. The cost of each tummy tuck is unique to your health and what you wish to achieve. Your cost will reflect your aesthetic goals. If you want to learn more about the cost of abdominoplasties, research "tummy tuck prices near me" and give our office a call to learn about the procedure estimates. A personal cost break-down will be provided in your personal consultation. To see if a tummy tuck can help you achieve the tummy you have always wanted, click here or call 301-468-5991 in Rockville, Maryland or 703-957-8610 in Fairfax, Virginia to schedule a consultation.
FAQs
What is a tummy tuck?
A tummy tuck is a surgical procedure that removes excess skin from a patient's midsection. This surgery is often performed after weight loss. Significant weight loss often leaves men with stretched skin folds along their abdomen. An abdominoplasty will reduce skin folds and smooth out the contours of the midsection. Tummy tuck scars will fade with time and can often be hidden discreetly beneath pants or boxers.
What is the difference between a tummy tuck and liposuction?
Liposuction and tummy tuck surgeries are similar in that they contour the body. However, liposuction implements a suction device to remove fat cells. This treatment will not reduce excess skin or tighten a large amount of skin. Whereas, a tummy tuck will excise unnecessary skin and smooth out your abdomen. Both are surgeries that result in body contouring but liposuction is performed everywhere and a tummy tuck only improves the abdomen. Lipo surgery and tummy tucks are often paired together to help transform the abdomen.
How long does an extended tummy tuck take?
An extended tummy tuck can take two to five hours.
Is a tummy tuck permanent?
A tummy tuck is a long-lasting solution to excess skin that hangs around the midsection of your body. The results of your surgery can be maintained with a healthy lifestyle and regular exercise.
How long does it take to recover from a tummy tuck?
The length of each man's recovery will vary based on the extent of the surgery and his health. Most patients are able to return to a sedentary job after a week or two. Strenuous activity is avoided for about three weeks. Plenty of rest and brief walks will help improve your healing process.
What happens when you have a tummy tuck?
During a tummy tuck surgery, an incision is made along your lower abdomen above your pubic hairline. The underlying muscles are accessed and they are tightened and mended. Unnecessary skin is removed and the remaining skin is re-connected. Incisions will be closed with stitches and then will be bandaged. This surgery requires general anesthesia and will help you obtain a smooth, sexy stomach.
How dangerous is a tummy tuck?
A tummy tuck comes with the risks of any surgery. A personal consultation is a crucial step in learning if a tummy tuck is a safe option for you. Dr. Michaels will need to learn about your health and any existing health conditions. If he does not deem an abdominoplasty a safe treatment, it will not be pursued and together you will create an alternative treatment plan. We take our patients health and safety very seriously. If a tummy tuck is deemed as a good solution for you, it will ultimately be your choice to pursue it. Our surgical team implements new techniques and safe technology to provide a safe, successful surgery.
Is male tummy tuck worth it?
Yes! Male plastic surgery is gaining in popularity and one of the more popular treatments among male patients is a tummy tuck. This surgery will slim down your frame and can help you achieve a sexy abdomen. Are you tired of stretched, flabby skin that hangs over pants or makes you self-conscious? An abdominoplasty will give you the smooth body you desire! After one surgery, you can show off your new, slim body.