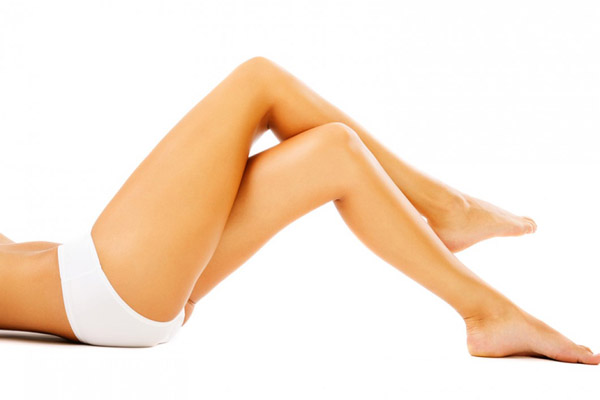 A thigh lift is a popular body contouring surgery performed on women and men who have lost weight or experience skin laxity due to aging. Dr. Michaels is one of the few plastic surgeons that is specially trained in addressing the physical concerns of after weight loss patients and providing appropriate treatment.
A thigh lift, as well as lower body lifts, tummy tucks, arm lifts and upper body lifts, are some of the most common procedures performed on weight loss patients. Dr. Michaels looks forward to meeting with patients one on one in order to help them reach their body goals. You can request a consultation by filling out this contact form or calling us at one of our two convenient locations in Rockville, Maryland or Fairfax, Virginia.
About Thigh Lifts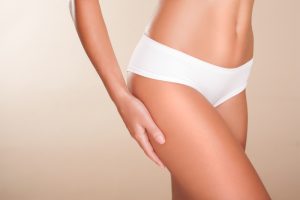 Thigh skin laxity can be the result of weight loss, weight gain, or aging. Sagging thighs can prevent patients from fitting comfortably into clothes forcing them to buy larger sizes. Loose thigh skin can be a source of considerable embarrassment and self-consciousness for some people forcing them to wear long pants even in warm weather.
The thighs should be thought of as two separate components, the outer thigh and the inner thigh. These two areas are treated very differently and the techniques used to correct them will depend on the patient's particular anatomy. If there is minimal skin laxity and excess fat, then liposuction can be used to enhance the contour of both the inner and outer thighs.
Thigh lift surgery is designed to remove lax skin and reposition tissue to tighten the thighs to give enhanced contour and definition.
If the patient has laxity of the outer thigh and wants this area corrected, then a lateral thigh lift is most appropriate. This procedure is often performed as part of a lower body lift or circumferential body lift. For patients with looseness of the inner thigh skin, a medial thigh lift can remove the excess skin from this area.
The extent of the skin laxity down the inner thigh will ultimately determine the length of the scar for this procedure.
There are several techniques to help patients obtain the thigh contour that they desire. During the consultation, Dr. Michaels carefully listens to the patient's concerns and creates a treatment plan that will best help them to achieve their goals. Dr. Michaels is a talented body contouring surgeon and has completed one of the few fellowships dedicated to this specialized area of plastic surgery. Contact one of his two offices today in Rockville, MD or Fairfax, VA to request a consultation.
Before and After Photos
Quick Facts
Length:
3-6 hours (depending on extent of procedure)
Anesthia:
General
In/Outpatient:
Can be done on an outpatient basis, inpatient stay is required in some patients
Side Effects:
Temporary swelling, bruising, tightness and some pain
Risks:
Pain, wound separation, bleeding, infection, rare damage to nerves, asymmetry, incomplete improvement
Recovery:
1-2 weeks back at work. 3 weeks light exercise. 5-6 weeks more strenuous activity. 8-12 weeks for swelling to resolve.
Duration of Results:
Proper diet and exercise can maintain results
Good Candidates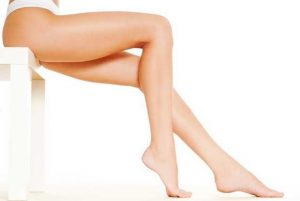 Women and men who are interested in improving the contour of their thighs, especially if they are concerned with excess skin on their inner or outer thighs, may be good candidates for a thigh lift or combination of procedures in order to improve their appearance.
Dr. Michaels offers a multitude of different procedures to address patient's concerns, which is why we recommend that they come in for an initial consultation in order to gain insight from his expertise on body contouring.
Prior to having any type of surgery, it is imperative that the patient is in good physical and mental health. Patients must also have realistic expectations prior to choosing any procedure. While the outcome will vary, Dr. Michaels' team will do their very best to provide the patient with an accurate picture of what they can anticipate during recovery and once they fully heal.
Ultimately, the only way to determine whether or not one would benefit from a transformative procedure such as a thigh lift is by meeting with a doctor who specializes in body contouring procedures, such as Dr. Michaels. Request a consultation in order to find out.
Techniques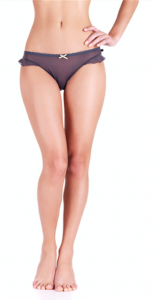 Depending on the patient's anatomy and what they hope to achieve, Dr. Michaels will perform one of the two most popular thigh lift techniques: lateral thigh lift (most commonly performed as part of a circumferential lower body lift) or medial thigh lift. There are variations of each technique, which Dr. Michaels will determine once he has the opportunity to meet and examine the patient. Dr. Joseph Michaels performs liposuction in nearly every thigh lift. This allows Dr. Michaels to safely remove more skin than if liposuction was not performed. It also removes residual fat from areas that won't be directly removed to help optimize thigh contour. In some cases, Dr. Michaels may recommend an additional or alternative thigh lift technique if dictated by a patient's anatomy.
Lateral Thigh Lift
A lateral thigh lift is performed to address excess skin on the outer thigh. It is also sometimes referred to as an outer thigh lift. It is most commonly performed as part of a circumferential lower body lift. The incision for this technique begins at the top of the outer leg, near the hip. Then, Dr. Michaels will make two incisions extending from this point, towards the front of the leg and towards the back, each hidden below the bikini or underwear line. The positioning of these incisions helps camouflage them.
Next, Dr. Michaels will remove the appropriate amount of skin in order to achieve optimal contour. Finally, he will tighten and suture the skin so that the outer thigh contour is smooth. In this way, he will improve the appearance of the skin on both sides of the outer thighs improving the overall patient silhouette.
Medial Thigh Lift
A medial thigh lift is performed in order to address excess skin on the inner thigh. It is also sometimes called an inner thigh lift. When a minimal incision is required for minor corrections, then it may be called a mini thigh lift. For this technique, an incision is made in the natural groin crease where the inner leg meets the pubic area. One of the benefits of the medial thigh lift is that the incision, due to its location, is already discreet and easily hidden. The downside is that a limited amount of skin can be vertical lifted in this manner.
It works best for patients that have excess skin limited to the upper 1/3 of the thigh. For patients with skin looseness that extends further down the inner thigh, Dr. Michaels will discuss the option of making a second incision down the vertical length of the inner thigh, in order to adequately address this additional skin laxity. This incision is well hidden on the inner thigh and should not be visible from the front or back. Similar to a lateral thigh lift, Dr. Michaels will remove the excess skin to achieve the optimal contour.
Supplementary Procedures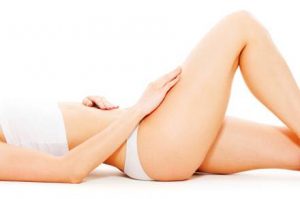 A thigh lift can be performed as a standalone procedure or it can be combined with different procedures to address the patient's specific requirements. Below are some of the common procedures that patients requesting a thigh lift are interested in.
Liposuction
Dr. Michaels performs liposuction in nearly all of his thigh lift cases to help improve the contour of the thighs. This serves two purposes. The first is to remove any residual fat deposits left in the thigh region. Secondly, liposuction helps loosen the tissue allowing more skin to be removed compared to if liposuction was not performed. Liposuction can be performed alone if the skin tone of the inner thighs is good. If it isn't, liposuction can result in loose skin in the inner thighs.
Lower Body Lift
A lower body lift addresses excess skin on the abdominal area, buttocks, and anterior and outer thighs. Dr. Michaels, under certain circumstances, will perform a medial thigh lift at the same time as a lower body lift. If the patient requires a vertical, medial thigh lift, Dr. Michaels prefers to perform this as a second stage. An arm lift and breast lift can also be performed for comprehensive results at the same time as a medial thigh lift.
Consultation
Patients interested in a thigh lift should first schedule a consultation with Dr. Michaels at one of his two locations in Rockville, Maryland or Fairfax, Virginia. During this time, Dr. Michaels will speak extensively with the patient to determine exactly what their goals are and if they are reasonably achievable. The doctor will also perform an examination to determine the ideal technique. If Dr. Michaels believes that the patient may benefit from a thigh lift or other procedure, then he will explain the procedure and develop a one-of-a-kind strategy in order to address his or her needs. During the consultation, Dr. Michaels will also discuss incision placement. Following your consultation, our team will be able to provide the patient with a customized price quote.
If you would like to learn more about the thigh lift, click here or call (301) 468-5991 in Rockville, Maryland or (703) 957-8610 in Fairfax, Virginia to schedule a consultation.