Prominent ears or protruding ears can be the source of significant stress for both adults and children. Ear reshaping or otoplasty is commonly performed to correct the anatomic variables leading to prominent ears. This surgery can be performed in children as young as five to six years old to minimize the risk of teasing by other children.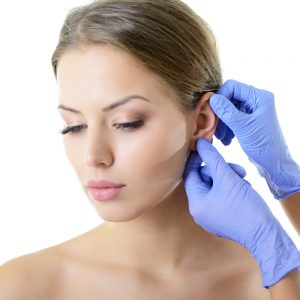 The goal of this procedure is to set the ear back closer to the head and to reduce ear size as needed. During the consultation for you or your child, Dr. Michaels will carefully diagnose the anatomic cause of the prominent ears and tailor a treatment plan specifically to address you or your child's specific needs.
Ear correction in children is frequently covered by insurance.
Quick Facts
Length
2-3 hours (depending on extent of procedure)
Anesthesia
General
In/outpatient
Usually an overnight stay is required
Side effects
Temporary swelling, bruising, and some pain
Risks
Pain, bleeding, infection, rare damage to nerves, incomplete improvement
Recovery
1 – 2 weeks back at work. 2 – 3 weeks more strenuous activity. 4 – 8 weeks for swelling to completely resolve.
Duration of results
Long lasting
If you would like to learn more about ear surgery, click here or call (301) 468-5991 in Rockville, Maryland or (703) 957-8610 in Fairfax, Virginia to schedule a consultation.