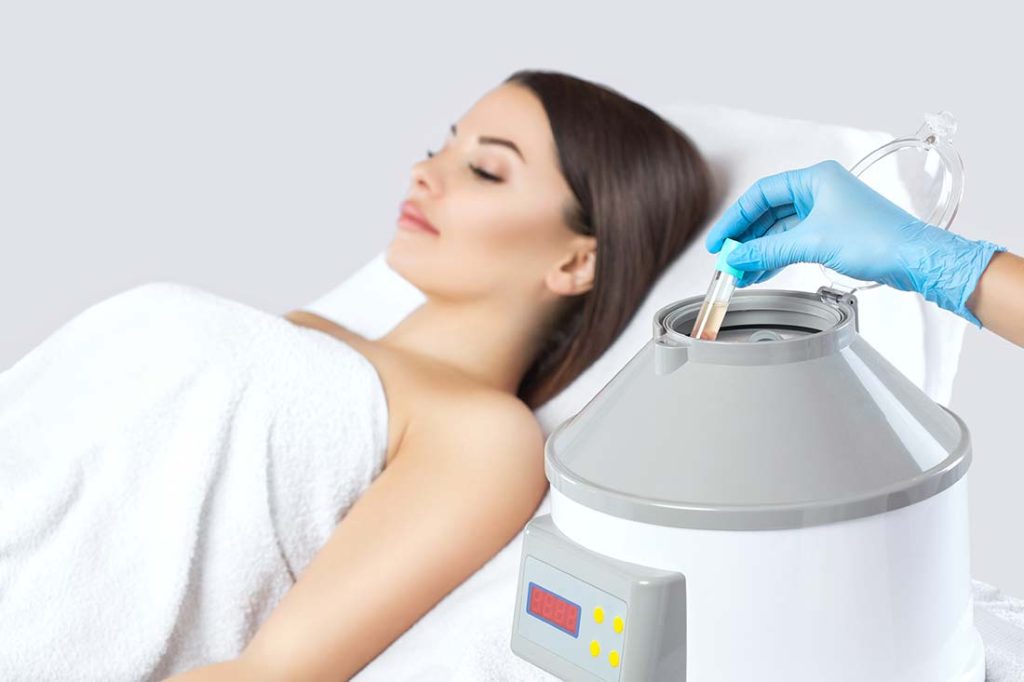 PRP (platelet-rich plasma) is the regenerative superstar of our blood, and because of this, it's commonly used in combination with skin rejuvenation procedures like microneedling. All of the beneficial nutrients within PRP stimulate collagen, elastin, and blood vessel growth as well as support their existing structural framework. Collagen an elastin are important building blocks for smooth, firm skin we so enjoy when we are young. Production eventually slows down with age sadly, and some unavoidable factors like the sun and second-hand smoke can also affect the quality of skin. Administering PRP topically or through injection help ramp up skin revitalization for smooth texture, even tone, and a more vibrant complexion and glow. And because the plasma is collected from your own blood, the risk of adverse or allergic reactions is extremely unlikely. [1]
The concept of PRP is not new; it has been studied with proven effectiveness for many years. We can thank Kim Kardashian for bringing PRP back into the spotlight after video and Instagram of her receiving a PRP facial went viral. [1] Thanks, Kim!
Non-surgical facial rejuvenation isn't the only use for PRP; it is also extremely effective for wound and injury healing as well as hair regrowth. Injecting PRP to injured joints, injured tendons, damaged cells, or skin wounds provide the same effects as PRP would for skin treatment. The joint or wound receives the added help it needs to heal.
Interested in what your PRP can do for you? Give Michaels Plastic Surgery a call today at (703) 957-8610 for our Fairfax location and (301) 468-5991 for our Rockville location to schedule a consultation. We look forward to speaking with you!
About
PRP, an acronym for platelet-rich plasma, is the part of your blood that contains regenerative properties like platelets, growth factors, plasma proteins, and stem cells. These components are effective for healing and revitalizing different areas and different concerns. Plasma, the majority of which is water with proteins, provides the avenue for platelets, white blood cells, and red blood cells to travel effectively through the body. PRP can provide:
Skin rejuvenation
Hair regrowth
Healing of wounds
Orthopedic treatment
Healing of injuries
Reduction of stretch marks
Treat scars
PRP can achieve the above list because platelets deliver important growth factors responsible for healing. Additionally, proteins in PRP act as bonding agents for connective tissues. Your body naturally utilizes the components of PRP in areas of damage or injury, so by introducing a concentrated form into particular areas, the body can better repair and heal the location(s). [1]
How Do You Separate PRP?
The important component of PRP are found in whole blood along with red blood cells and white blood cells. The sample retrieved from a standard blood draw is placed in a machine called a centrifuge. This is a particular device that spins at an accelerated rate. This action separates the blood components into three layers, the red blood cell base layer, the white blood cell buffy coat in the middle, and the platelet-rich plasma layer on top. [2] These layers separate from each other due to their different gravities. [3] A syringe is then used to retrieve the easily accessible top layer of platelet-rich plasma. It is then ready for use in whatever manner needed.
Benefits
PRP injection can serve as a procedure on its own as an injection or topical application, and it can also be combined with other procedures to enhance the results. PRP is a natural solution for quick regeneration and revitalization. If PRP is used for joint or tendon injury, pain is reduced, if not eliminated, and mobility is greatly increased. Symptoms are not simply masked; the treatment works at a cellular level to heal the root cause.
Candidates
The ideal patient for PRP treatment is practically anyone. Since the injections are of your own blood components, there is minimal risk of adverse reaction. Contraindications include those who have HIV, AIDs, or cancer of the blood.
Patients seeking aesthetic PRP treatments typically suffer from dull skin, discoloration, wrinkles, scars, and mild skin laxity and wish to address these concerns through minimally-invasive, non-surgical means. Those with non-skin-related conditions like hair loss and injuries can also be potential candidates for PRP treatment.
Personal Consultation
A PRP consultation is the time to discuss your aesthetic concerns with Dr. Michaels. After understanding your goals and conducting a physical exam of the potential treatment areas, he will be able to recommend whether PRP treatments will be an effective remedy. Sometimes, a combination of treatments is best to treat certain concerns. Michaels Plastic Surgery offers in-person or virtual consultations to fit your schedule.
Preparation
Excessive sun exposure should be avoided before treatment, and at all times for that matter. If you've chosen a microneedling and PRP facial, come to the appointment with a clean face or treatment area free of moisturizers, lotions, or makeup.
Procedure
The treatment will begin with your blood being drawn from a vein in your arm. Topical anesthetic for the treatment area is available upon request. The samples are put into the centrifuge to separate the PRP from the other blood components. The gravity level of PRP is the lightest of the blood components so it is easily retrieved from the top of the tube. Depending on the treatment being performed, the PRP will either be injected into the desired locations or applied topically after a skin treatment.
Recovery
Recovery from PRP treatment will depend on how it is administered. There may be some redness, swelling, bruising, or minor bleeding from the microneedling, but PRP injections alone or PRP used topically do not require downtime.
Results
Studies have shown incredible improvements after PRP treatments. In one study with 30 female participants, after six months of treatment, 78% of participants saw significant improvement in wrinkles around the eyes and 74% saw diminished dark circles. [4] These are just a couple of the amazing regenerative results PRP treatments can provide women and men. Typically, results will last about a year, but it could last longer. It simply depends on your body. [1]
Corresponding & Complementary Procedures
A PRP facial utilizes the application of PRP after a microneedling treatment. Microneedling is a skin rejuvenation treatment that uses controlled skin penetration via thin needles to kickstart the body's healing response. This response creates a plethora of collagen to heal the microchannels, effectively plumping and smoothing the skin. When you add PRP into the equation, these transformative results skyrocket, sending even more nutrient-rich backup for healing and regeneration.
Some hair loss is normal; we lose hair every single day. However, if you suffer from androgenetic alopecia or hair loss due to factors such as stress or medications, PRP can help naturally regrow your hair. When injected into the scalp, PRP improves blood supply to the hair follicles. PRP hair restoration can turn back the hands of time. PRP hair restoration does not have to only be used for hair loss though. The stimulation of the cells and follicles can strength and thicken the existing hair for more luscious locks.
PRP Acne Scar Treatment
Acne scars are an unfortunate battle wound of the fight against acne. PRP can help smooth the divots left behind when injected directly into the area with natural skin plumping. A more effective treatment though is the combination of PRP with laser treatment. [5] Michaels Plastic Surgery offers IPL Lumecca, an intense pulsed light skin resurfacing treatment. This device uses the power of light to treat a wide variety of skin concerns, and features a cooling sapphire tip for maximum comfort.
Cost
The price of PRP treatments in Maryland and Virginia depends on the procedure that PRP is combined with. You will be provided with an exact quote during your consultation once we determine which PRP treatment will meet your cosmetic goals.
References