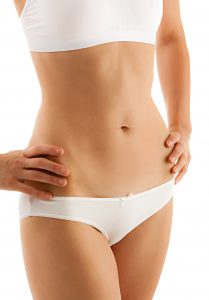 Have you achieved significant weight loss, but are left with large amounts of sagging, excess skin? Post-massive weight loss patients are often candidates for a Body Lift. Massive weight loss often leaves patients with excess skin that is unable to contract to its former position. The skin can only contract so much and in cases of extreme weight loss, patients are left with folds of hanging skin around their midsection, arms and back. The excess skin often hangs down and may be uncomfortable and embarrassing. If you have recently lost a lot of weight and relate to these effects of weight loss, we can help.
Dr. Michaels is one of the nation's top expert plastic surgeons for body lift surgery. He artfully sculpts his patients' bodies: your transformative results will restore your body and your confidence. You worked so hard to lose all that weight, now it's time to maximize your results! Body lift will help you restore your tight, healthy physique for the long-term.
This procedure is our most popular when it comes to our massive weight loss patients. We want each patient to be fully informed about treatment details. Below is a list of questions Dr. Michaels frequently receives from his body lift patients:
How much is a full body lift?
Every person has unique features and a desired goal they are trying to reach. Therefore, treatment costs differ between patients because we customize your surgical experience based on the needs of your particular case. We want everyone to achieve their best outcome and will work closely with you to ensure you are satisfied. A full body lift is an extensive procedure that includes unique surgical methods to bring about a rejuvenated, natural figure. For instance, it is common to include liposuction in a lift procedure because, even after massive weight loss, patients can still be left with stubborn pockets of fat. Liposuction helps to slim down these bothersome areas and help patients achieve their best end result. Dr. Michaels will let you know if liposuction should be incorporated into your body lift to achieve your best outcome.

A cost breakdown will be discussed during your personal consultation with Dr. Michaels. This meeting is a great time to ask questions and share any concerns you may have. Dr. Michaels will take his time explaining your options and ensuring you are a healthy candidate for the procedure. Ideally, you will have reached your weight goal, are healthy and have no pre-existing medical conditions that will impact your safety. Your personal consultation is a great time to learn all about a full body lift, the costs involved, and how this procedure will impact even the small aspects of your daily life. Schedule a consultation today if you are looking to take the next step of your weight loss journey!
Is a body lift covered by insurance?
Most insurance companies cover at least part of a body lift procedure in the case of severe weight loss. To determine if your insurance will help you out, give them a call today.
What is a full body lift surgery?
A full body lift surgery can include two procedures which are typically performed at different times: an upper body lift and lower body lift. An upper body lift focuses on the arms, breasts/chest and back. The surgery removes excess skin that hangs down in folds and helps your body appear smooth and contoured again. A lower body lift focuses on the buttocks, abdomen and thighs. These procedures can be combined to treat the whole body and provide a comprehensive improvement in appearance. A full body lift may be necessary when extensive weight has been lost. Most patients find that the majority of their excess skin sags around their midsection. A full lift may be needed when excess skin hangs from the thighs, abdomen and back. The procedure will be performed over two or more appointments.
What does an upper body lift include?
An upper body lift includes an upper arm lift, breast lift and back lift. Dr. Michaels applies incisions delicately and along the natural contours of the body. Incision marks will fade with time and treatments can be used to lessen the appearance of scars. The whole surgery will last between two to three hours after which you may return home to rest. Some patients may need to stay overnight so we can monitor their health.

Losing large amounts of weight may leave loose skin under the armpits, upper arms, along the breasts and hanging in folds from the back. These folds can be uncomfortable, embarrassing and may prove unhygienic. After working so hard to lose weight, we believe an upper or lower body lift is the cherry on top. This procedure will help show off your results and help you truly achieve your body goals. 
How much is a full body lift?
The cost of a full body lift will differ from patient to patient. A full body lift refers to two separate procedures that address many different areas of the body. Your procedure will be tailored to your unique anatomy to make sure we achieve your most flattering results. The level of customization and thought that is poured into each procedure will make full lift pricing different on a case-by-case basis, but it will also allow us to achieve your best results. Give our office a call today to learn more or click here to set up a consultation.
What does a lower body lift include?
A lower body lift addresses the trunk of the body. The procedure will excise excess skin and contour the bum, thighs and abdomen. This procedure will drastically improve your profile and mobility. With no more skin hanging down around your waist, clothes will fit better and you will be able to get around easier. 
How long does it take to recover from a lower body lift?
Everyone's timeline for recovery will differ. The important part is that you rest, drink plenty of water and take your time recovering. Patients are encouraged to take brief walks several times a day when they feel comfortable doing so. These walks will help diminish swelling and improve blood circulation. Daily activities that are exerting should be avoided for three to four weeks. If you have a sedentary job, you may be able to return to it within a week or two. Physically demanding jobs will require a longer downtime of about six weeks. Strenuous activities, such as lifting, should also be avoided for about six weeks. Dr. Michaels will provide you with more in-depth instructions so you are well-informed and have a healthy recovery. A part of having a healthy recovery includes a follow-up appointment. This appointment will allow Dr. Michaels to inspect your incisions, remove drains, and answer all of your new questions. During this appointment he can help you determine when to return to your job.
How much does a lower body lift cost?
The cost of a lower body lift will be personal to you and your body goals. Each treatment is customized to your body and desired aesthetic. We will work with you to map out a treatment and recovery plan that achieves an impressive result!
Can I tighten loose skin after weight loss?
In cases of minimal weight loss, the skin may contract on its own. However, in cases of massive weight loss, loose skin may not contract enough and you may be left with large amounts of hanging skin. There is no treatment that will tighten your skin. The only solution for large amounts of loose skin is to excise it. Dr. Michaels is a skilled surgeon who has plenty of experience contouring patient's bodies and helping them look their best. He will work with you to determine which procedure and additional techniques will provide your best outcome. If you have lost a lot of weight but are feeling discouraged from large amounts of sagging skin, don't worry. Dr. Michaels will help accentuate your natural appearance with one of our body lift procedures.
How long does it take to recover from a full body lift?
The healing process is very personal. Some patients will feel able to go back to work after a week while others will need two weeks. Recovery is a unique experience that will be different for everyone. Dr. Michaels will help you through your healing process in the form of follow-up appointments and detailed instructions on how to care for yourself.

A full body lift includes two procedures – an upper body lift and lower body lift. Each procedure will have its own recovery period that you will have to prepare for and take time off of work for. Dr. Michaels and his helpful staff will be by your side throughout these procedures and recoveries to help you achieve your best outcome!
Our patients are always amazed by how impactful these surgeries are. Not only will you experience a positive boost in your self-image, your daily life will be greatly improved. If you have lost the weight and are looking to finalize your body goals, an upper or lower body lift with Dr. Michaels is your next step. Give our office a call today at (301) 468-5991 to learn more or click here to schedule your consultation. Together, we will work to help you look and feel your best!